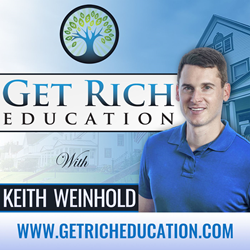 Be frugal with your time, not your money.
ANCHORAGE, Alaska (PRWEB) September 16, 2020
Real estate investing has made more ordinary people wealthy than anything else. Keith Weinhold clearly began explaining how in 2014. It quickly became one of America's most popular shows.
The Get Rich Education podcast recently broke the 3 million listener download mark, led by paradigm-shifting guidance. For example, "Getting your money to work for you does not create wealth. Getting other people's money to work for you, however, does."
Real estate investors ethically use other people's money three ways simultaneously: 1) The bank for the loan. 2) The tenant for the income. 3) The government with generous tax incentives when you provide others with housing.
Show Host Weinhold says, "I used to find wealth-building as shallow. My mindset changed when I realized that passive income buys freedom when you're young enough to enjoy it."
The podcast explains why the wealthy are frugal with their time, not their money. Time is non-refundable; it must be used with intention. The show tells you how to avoid common mistakes, and how arbitrage, inflation, taxes, and interest can create wealth.
Also a Forbes writer, Weinhold makes the podcast actionable. He even shares the exact preferred providers where he purchases his own investment property.
The world's #1-selling finance author Robert Kiyosaki, #1 sales trainer Grant Cardone, and legendary investor Jim Rogers all have one thing in common.
They are guests on the popular Get Rich Education podcast alongside Weinhold, clarifying wealth-building concepts in a way that everyone can understand. Listen here now.