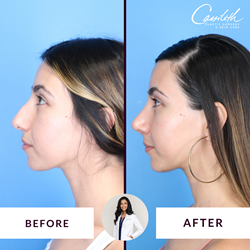 "Social media filtered photos offer great insight into my patient's goals, and help enable me to create highly-customized treatment plans." - Dr. Sarmela Sunder
BEVERLY HILLS, Calif. (PRWEB) November 06, 2019
Social media photo editing apps have transformed the way patients communicate with their plastic surgeons. Patients can use these apps to show their doctors their desired look, and the apps help to facilitate their discussions with their providers. Influencers and non-influencers alike bring their Snapchat and Instagram photos, filtered with tools like FaceTune to their consults for Cassileth's team of plastic surgeons.
Some doctors see this as negative, claiming these patients have "Snapchat Dysmorphia" whereas Dr. Sarmela Sunder of Cassileth Plastic Surgery takes this information and uses it to create a customized treatment plan. She takes a 3D Vectra photo and alters the 3D face to resemble the patient's Instagram or Snapchat ideal look and then translates the look into what is actually an achievable aesthetic.
"This gives patients a real chance to see what they like, not just listen to the doctor's aesthetic. We can really empower our patients to look how they want to look, using our judgement to do what is good and safe," says Dr. Sarmela Sunder.
Dr. Sunder uses three different tools to optimize the appearance of the face: injectables, fat transfer, and facial implants. "The results may be simple as an injectable in the office such as hyaluronic based filler, but other patients want permanent results." Dr Sunder frequently uses injectables to alter her patient's noses and cheekbones. "Sometimes, we can try out a desired look with a '5-minute nose job', where the patient's nose is altered with one syringe of filler. That way we can make sure they like it first!" She combines her artistic and technical skills with imaging technology to gain the confidence of patients and make them feel confident with their aesthetic results before and after surgical procedures.
Dr. Sarmela Sunder is a double-board certified plastic surgeon, she earned her medical degree from Cornell Medical College and served her residency at Stanford University following a fellowship in facial plastic reconstructive surgery. With over 8 years dedicated to studying the face and neck, she specializes in advanced techniques for optimal results for mid-face lifts, facelifts, neck lifts, eyelid lifts and rhinoplasty. Combining her superb skills as an artist and a surgeon, Dr. Sunder achieves beautiful, natural results.
For more information, visit http://www.drcassileth.com
Like Cassileth Plastic Surgery on Facebook and follow on Instagram @CassilethPlasticSurgery
Media contact: Wendy Cassileth, Tel: (310) 278-8200; Email: wendy@cassileth.com