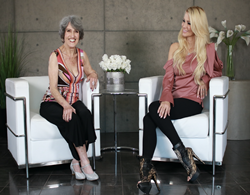 Making Senior Sex with Joan Price was an incredible learning experience. I thank her for trusting me and taking the leap. Our cast - Bonnie, Joel, Marlene, and Galen - were incredible to work with.
LOS ANGELES (PRWEB) January 31, 2020
Wicked Pictures is pleased to announce jessica drake's Guide to Wicked Sex: Senior Sex was named Best Niche Production at the 37th Annual AVN Awards, held Saturday, January 25th during the 2020 Adult Entertainment Expo in Las Vegas. Co-created with senior sex expert Joan Price, and featuring people who have never appeared on-camera professionally before, this groundbreaking release demonstrates how people in their 60s, 70s, and beyond can experience wonderful sex.
"I am so grateful to AVN for this recognition," drake enthused. "Making Senior Sex with Joan Price was an incredible learning experience. I thank her for trusting me and taking the leap. Our cast - Bonnie, Joel, Marlene, and Galen - were incredible to work with. Thanks to my awesome crew - Barrett Blade, Rae Threat, Triton, Jenna Valentine, and Jo - for all their hard work and creative efforts. From the first Guide To Wicked Sex, the series has continued to grow and evolve into a truly amazing resource. I'm so very grateful to Wicked Pictures and Wicked Sensual Care for supporting me as an educator and allowing me to create educational content that is so needed in this world. Thank you to Daniel, Adella, and the rest of our team for your hard work and encouragement. It takes a village! Winning this award is a tremendous accomplishment, not only for us as a team, but for people everywhere. It's my hope that we continue to push back against the idea that sex has an expiration date. Let's continue this conversation. We deserve pleasure at any age."
"I am thrilled by this award," co-director Price added. "Making this film with jessica drake was an exhilarating experience. We felt right away that our intentions for this film were completely in sync. Moment by moment, our vision came to life, thanks to the commitment, skill, and brilliance of everyone involved. The resulting film is beautiful, professional, and powerful. The cast shows us the kind of unscripted sex they genuinely enjoy, which is moving, beautiful, and downright sexy! I am deeply grateful to Wicked Pictures, the cast, the crew, and especially the amazing jessica drake. This award feels like a validation of the work I've been doing for 15 years: normalizing and celebrating older-age sexuality and educating people about how to enrich their sexual pleasure lifelong. How beautiful to be embraced by the adult industry in this way!"
Originally released August 7, 2019, and covered extensively by media outlets as diverse as Yahoo! Finance, Synergy, Jezebel, Fast Company, SHE, and Adult Video News, jessica drake's Guide to Wicked Sex: Senior Sex marks the third time the franchise has dominated AVN's specialty category. The line's debut release, Fellatio, received Best Educational Release in 2012, and the series claimed the award again two years later with Anal Play For Men.
Wicked Pictures President and Owner Steve Orenstein is understandably pleased with the line's enduring success. "I'm proud of jessica and her recognition by AVN. Her continued growth as a person and specifically sex educator shows in her work. Also, a big thank you to Joan Price for her partnership in this project."
For more information about jessica drake's Guide to Wicked Sex, visit GuideToWickedSex.com. For more on Joan Price, visit joanprice.com.
Joan Price calls herself an advocate for ageless sexuality. She has been called other things by the media: "senior sexpert," "the beautiful face of senior sex," "wrinkly sex kitten," and—her favorite—"The woman leading a sex revolution for seniors." Joan has been writing and speaking about senior sex since 2005. Her books include:
● Sex After Grief: Navigating Your Sexuality After Losing Your Beloved, Joan's newest book, helping people in grief open up to sex again.
● The Ultimate Guide to Sex after Fifty: How to Maintain – or Regain! – a Spicy, Satisfying Sex Life, her most comprehensive senior sex book.
● Naked at Our Age: Talking Out Loud about Senior Sex, winner of Outstanding Self-Help Book 2012 from the American Society of Journalists and Authors and 2012 Book Award from American Association of Sexuality Educators, Counselors, and Therapists
● Better Than I Ever Expected: Straight Talk about Sex After Sixty, Joan's spicy memoir celebrating the joys of older-age sexuality.
● Ageless Erotica, a steamy senior sex anthology that Joan conceived and edited.
● At age 76, Joan Price continues to talk out loud about senior sex -- partnered or solo – in speeches, workshops, and webinars, and on her zesty senior sex blog, which includes news, views, and sex toy reviews from a senior perspective. She also writes the "Sex at Our Age" column for Senior Planet. Subscribe to her newsletter here and watch her entertaining, free webinar, "Safer Sex for Seniors."
About jessica drake
An exclusive Wicked Pictures performer, writer, and director, as well as a global humanitarian and emerging sexual wellness authority, jessica drake's brilliant career is illuminated by her prodigious talent and adult industry clout. A recipient of three coveted AVN Best Actress awards and AVN's Mainstream Star of the Year honor, jessica has solidified her status as one of the industry's most illustrious stars. However, it is her time invested in healing, working alongside, and educating the public of which she is most proud. In her self-directed, written, and produced "jessica drake's Guide to Wicked Sex" series of instructional videos, jessica brings erotic topics to life through intimate demonstrations performed by some of today's top adult stars. Each edition addresses a different aspect of human sexuality, which is presented in the spirit of inclusion and explored with a distinct blend of knowledge, experience, and good humor. The series has earned recognition from AVN, XBIZ, and The Feminist Porn Awards, and is available on DVD, VOD, and multiple streaming platforms.
A charismatic public speaker, the same demand for her modern sex education DVDs also takes jessica around the world - presenting seminars and workshops at expos, retail outlets, and colleges like USC, UCLA, and Chapman University – where she speaks to curious adults desiring to learn more about sex, romance, and communication. jessica also continues to be a paramount voice for sex workers across the world - she's spoken at the Let Us Survive March, a rally for sex worker rights, and is a continuing sponsor of one of the first summits for sex workers, CatalystCon.
Dubbed "The Porn Entrepreneur Next Door" by Forbes, jessica drake is an advocate for sex education, advocacy, and inclusion. "My passion comes from personal experience, from the idea we are all connected."
About Guide to Wicked Sex
Three-time AVN Best Actress winner and sexual wellness authority jessica drake brings erotic topics to life through intimate demonstrations performed by some of today's hottest adult stars in her "Guide to Wicked Sex" series (Guide to Wicked Sex: Senior Sex is the first volume in the series to feature a non-industry cast). The stimulating sequences are sensual, provocative and enlivened by an informative optional audio commentary. In each volume of "jessica drake's Guide to Wicked Sex," writer, producer, director, and host jessica drake addresses a different aspect of human sexuality, ranging from Fellatio and Anal to Basic Positions and Female Masturbation. jessica explores each topic with the same distinct blend of knowledge, experience, and good humor, which led Dee Dennis, the founder of sexuality conference CatalystCon, to praise her as "an amazing sex educator and speaker, who represents a new direction and is breaking new ground" in the sexual self-help genre. The series' volume on Fellatio earned AVN's 2012 Best Educational Release trophy, "Anal" was named XBIZ's 2012 Specialty Release of the Year, "Anal Sex for Men" received AVN's 2014 Best Educational Release award, and "Plus Size" earned XBIZ's 2015 Specialty Release of the Year. For more information, visit GuideToWickedSex.com, and Twitter.com/Guide2WickedSex