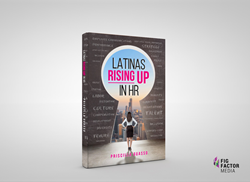 "The 2019 Corporate Inclusion index from Hispanic Association on Corporate Responsibility research shares that 2% of board seats are held by Latinas and less than 1% of executive positions are held by Latinas. Those results, honestly, are unacceptable for me."
CHICAGO (PRWEB) October 27, 2020
Latinas in executive leadership roles are not very common. According to a Missing Pieces Report by Alliance of Board Diversity only 4% of executive positions at Fortune 100 companies are held by Latinas.
When Priscilla Guasso, a 15-year experienced HR leader based in Chicago and Miami, began to notice this lack of diversity in executive roles she decided to bring to light and create a platform for Latina professionals. She had a vision to create a community to share their experiences, tips, and stories and to empower one another as they navigate their careers in human resources.
With that inspiration, her book "Latinas Rising Up in HR: Inspirational Stories of Human Resources Professionals Leading, Thriving, and Breaking Barriers" was born. Guasso shares that during her 15-year career she was blessed to have had opportunities to move up the corporate ladder and reach successful heights. She credits her hard work but also the support she received from her family, friends, mentors, and sponsors. However, as she reached more professional success, she realized not many people looked like her at the top.
"I educated myself and learned what it took to move into these roles," Guasso said. "Later on, did I realize that I was quite the exception. There is less representation of Latinas and women at the table, unfortunately. The 2019 Corporate Inclusion index from Hispanic Association on Corporate Responsibility research shares that 2% of board seats are held by Latinas and less than 1% of executive positions are held by Latinas. Those results, honestly, are unacceptable for me."
This stirred something inside her and at the beginning of 2020, Guasso paused her career for personal reasons and focused on developing this unique project. To bring this inspiring book to life Guasso partnered up with Fig Factor Media Publishing.
"Latinas Rising Up in HR" launched via Facebook Live on Fig Factor Media's Facebook Page on Oct 17. Since then the launch has reached over 9,000 people and has had over 3,600 views. A recording can also be found on YouTube. The launch allowed all the authors to share a short message with the audience through a series of themed panels.
The book's preface is written by NBC Universal Vice President of Diversity and Inclusion Salvador Mendoza. A mentor to her, Guasso credits his guidance and tireless advocacy of her growth and success.
The following 20 authors featured in the book:

Priscilla Guasso, Speaker, Author & Founder of Latinas Rising Up In HR
Valerie Hope, Leadership Coach & Professional Speaker
Stephanie Martinez, CEO & Founder, HRDesigned4U, LLC
Janine Ting Jansen, People Partner Director
Irma I. Reyes, Director of HR
Katie Lopes, HR Anthropologist
Naysa Aparicio-Hernandez, Vice President of HR
Susana Mota, HR Business Partner
Edith Pacheco, Benefits Manager
Pamela Burga, Diversity & Inclusion Leader
Myriam Del Angel, HR Manager
Karina A. Jimenez, Regional HR Manager
Griselda Rodriguez, Benefits Director
Sonya Lamas, Colleague Experience Director
Monica Tijerina, Corporate Social Responsibility Strategist
Francisca Phillips, Engagement, Diversity & Inclusion Leader
Mercedes E Jaime, Supplier Diversity Professional
Isabel Montes, Human Resources & Learning Director
Karina Pro, Sr. Director of Human Resources
Luz Perez, manager, HR Business Partner
Guasso announced that two scholarships would be offered through the platform: Latinas Rising Up in HR Student Scholarship offered to students ages 17-24 and the Latinas Rising Up in HR Professional Scholarship offered to professionals with two to seven years' experience. A portion of the book proceeds will fund these scholarships.
The reason Guasso wrote this book was to encourage Latinas in the HR field to grow, thrive and help the next generation of leaders.
"Yes, we are all Latinas, but our stories resonate with so many more people," she said. "You may ask why did I jump into this? Why did 19 of us do this together? We really wanted to build a space where Latinas in HR could share the keys of their knowledge and open doors for others to join us."
For more information about the book and to purchase a copy visit http://www.latinasrisingupinhr.com.
Marketing partner support of this launch include:

CDW
CHCI Alumni Association Chicago
FAIRYGODBOSS
Hermandad de Sigma Iota Alpha, Inc.
Hispanic Alliance for Career Enhancement
Hispanic Association of Colleges & Universities
Hispanic Executive
Hispanic Star
HRhotseat
Hyatt
Latina Style Inc.
Latinas and Power, Corp.
Latino Corporate Directors Association
Latino Economic Development Center - MN
Latino U College Access
National Association of Women Business Owners in MN
National Hispanic Corporate Council
Prospanica Chicago
Prospanica NYC
RJW Logistics Group
SHRM
SHRM Chicago
The Latinista
University of Illinois' Latino Latina Alumni Association
We Are All Human
About "Latinas Rising Up In HR"
"Latinas Rising Up in HR" created by Priscilla Guasso proudly showcases inspirational stories of aspiring human resources professionals who overcame obstacles and defied statistics to achieve their dreams in corporate America, nonprofit and as entrepreneurs. Their experiences answer the question, "Why aren't there more Latinas in executive leadership?" and show how determination, grit, and finding the right mentors can pave the way to opportunity for anyone of any background. Be inspired by their personal wisdom in the Reflect and Rise micro-mentoring moments at the end of each chapter, and you too can continue to rise to your dreams. # # #
About Fig Factor Media:
Fig Factor Media Publishing is an international publishing company with a "beeping" heart. Fig Factor Media has helped many authors achieve and support their dream of impacting their communities in the United States, Mexico, and Europe. Fig Factor Media is the official publisher of Today's Inspired Latina. For information, visit figfactormedia.com. ###