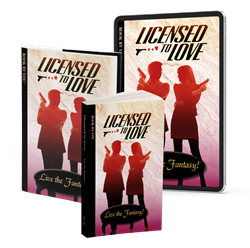 You and your beloved are secret agents - you save the world and fall in love!
HOOD RIVER, Ore. (PRWEB) January 27, 2021
If you always secretly thought you'd make a great spy, now you star in the personalized romance novel, "Licensed to Love". Our heroine and hero are a match in every way—each an expert in marksmanship, martial arts, and the use of all weapons. She in the CIA and he in MI6, they have individually devoted their lives to fighting terrorism around the world. Each has given up on love, never quite able to find anyone who could—or wanted to—keep up with their daring lives.
BookByYou.com, the leading publisher of customized novels, has launched its first personalized secret agent/spy romance book, "Licensed to Love". The storyline is full of romance, intrigue, espionage and thrilling edge-of-your-seat storytelling at its best. Our heroine is a beautiful and fierce CIA agent who must infiltrate and dismantle a terrorist cell in America that plans to detonate a nuclear bomb. Her assignment becomes more complicated when she meets our hero, a dashingly handsome MI6 agent working on the same case. Their secret identities and their accidental love create new challenges for their mission—and their romance.
Add into the mix two more personalized spy characters: first, the leading lady's best friend, also a CIA agent, and the voice in our heroine's ears when our leading lady is busting down doors and shooting terrorists, and second, our hero's friend, his MI6 colleague, and a man of reason. Now you have a manual for espionage and romantic chaos that makes Licensed to Love a must-read.
This Valentine's Day, lovers can give the most one-of-a-kind thrill to each other with a personalized version of "Licensed to Love". Select the hero and heroine, plus sassy friends, to create a unique gift that will make this Valentine's Day the best ever. "Licensed to Love" is personalized by providing specific information such as loved-one's names, their physical features, friends, places, even favorite drinks—with over thirty unique characteristics to make your beloved's fantasy world a reality. Available in full-length customized paperback, hardcover or personalized ebook editions, each can be further personalized with a photo on the cover creating the ultimate, unforgettable romantic read. BookByYou offers a preview area where readers create their own personalized excerpts from any of the company's 70 romance, mystery, teen or children's novels.
BookByYou.com has received national media coverage and featured on ABC's The View, CNN, Fox News, The Wall Street Journal, Jimmy Kimmel Live and many additional media outlets. BookByYou.com is the world's largest provider of personalized books.
Media interviews and promotional images are available upon request.