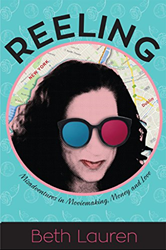 BROOKLYN, N.Y. (PRWEB) March 02, 2019
Beth Lauren's literary debut Reeling: Misadventures in Moviemaking, Money and Love - a deeply moving, and at times, harrowing account of her multi-year journey to produce a romantic comedy; an experience that unlocked memories of the sexual assault she survived so many years earlier is featured today on the Feminist Book Club podcast. https://www.feministbookclub.com/reeling/
Ms. Lauren and the host, Renee Powers, tackle the themes she explores in her memoir, including PTSD; surviving sexual assault; what it means to be a feminist and how being a feminist informs her writing and her life choices.
This debut memoir, which will soon be published by Boulevard Books, offers a glimpse into how the #MeToo movement has given survivors, who had not previously shared their experiences, the courage to candidly tell their stories. With her unique blend of wit and unflinching honesty, Ms. Lauren takes the reader on two different but equally compelling journeys-one the riveting truth of the matter, as Beth seeks justice and pursues healing for her mind, body and soul; the other an imaginary path, as Beth channels her screenwriter's eye into a cinematic alternative history. This innovative hybrid memoir-screenplay is a romance any lovelorn woman or man can relate to, a tragedy any survivor can draw inspiration from; and a comedy with laughs for any reader on every page.
"The things I wanted to be, the so-called happy ending, didn't work out as I had hoped at the time, but I'm better for it." said Ms. Lauren said.
Reeling: Misadventures in Moviemaking, Money and Love is Beth Lauren's literary debut. She is currently working on a collection of short stories chronicling the year she lived in a conservative, economically-depressed town in New York State, which coincided with the 2016 presidential election. http://www.bethlaurenltd.com
Feminist Book Club is a community-driven monthly subscription box that features a book-of-the-month and gorgeous products from woman and queer-owned small businesses. The subscribers suggest titles for upcoming months and the community votes to decide which book will be in the next box. The books chosen may not be explicitly feminist, but are read through a feminist lens, guided by gender researcher and founder Renee Powers. https://www.feministbookclub.com/reeling/
Boulevard Books is an independent book publishing company owned and operated by Avi Gvili. Boulevard Books offers authors a 100% royalty structure with full marketing, editorial, and book design services. Boulevard Books has over 39,000 distribution outlets globally. http://boulevardbooks.org/