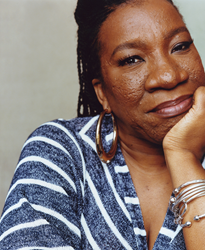 I am honored to be part of Town Clock's movement to create safe havens for women and children who are fighting for their lives by escaping the dangers of domestic violence.
NEW BRUNSWICK, N.J. (PRWEB) August 15, 2019
A star-studded cast will come together for Being Brave – An Evening of Honoring Survivors at the Nicholas Music Center, New Brunswick, NJ, on Friday, November 8, 2019, 8 PM. The event is designed to honor women who pursue safety, wholeness and new lives and support them with permanent, affordable housing.
"Everyone deserves a safe place to call home, a life free from violence. Stable housing is the leading catalyst to life improvement and change. At Town Clock, we honor the decision our residents made to escape their abusers and give themselves and their children a chance at a safe and secure life," says Reverend Susan Kramer-Mills, executive director of the Town Clock Community Development Corporation (TCCDC). Susan Kramer-Mills Video Quote
Largest in NJ, 1 of 40 Nationwide
Town Clock CDC's facility transformed the sanctuary of the 200-year-old First Reformed Church of New Brunswick into 10 supportive, long-term affordable housing units for survivors. It is one of only 40 establishments of its kind in the entire United States. When the facility opened in April 2016, it instantly became the largest, permanent housing program for survivors of domestic violence and their children in New Jersey.
"Thousands more units are needed throughout the US. Our goal is to replicate our model by working with other organizations and creating at least two facilities in every state," says Kramer-Mills. "We hope that Being Brave will shine a national spotlight on this national crisis/shortage and enable us to create the affordable, permanent, and supportive housing so desperately needed by survivors of domestic violence."
Being Brave Event & Award
Lisa Guerrero, Inside Edition's award-winning, internationally known, chief investigative journalist, will host Being Brave. "I am proud to host the Being Brave Event and team up with Town Clock to honor survivors of domestic abuse. What could be more brave than a woman escaping her abuser for a forever home?" says Guerrero. Lisa Guerrero Video Quote She will be joined by Tarana Burke, founder of the #MeToo Movement and social justice activist. Grammy Award-winning singers, The American Repertory Ballet Company, politicians and other notables will highlight – through song, dance and spoken word – the challenges and triumphs of survivors seeking a forever home.
Tarana Burke will be the first recipient of the Tarana Burke Being Brave Award for outstanding leadership in breaking the cycle of abuse. "I am honored to be part of Town Clock's movement to create safe havens for women and children who are fighting for their lives by escaping the dangers of domestic violence. I am humbled to receive this award and lend my name in support of women and children seeking new lives. To have a safe place where you can get help and not be alone is critical to dignity and survival," says Burke.
She adds, "Town Clock is proof that we are stronger together, that survivors can break the cycle of violence by doing things big and small every day."
For additional information and ticket purchases, visit http://www.BeingBraveEvent.org.
Tarana Burke
For more than 25 years, activist and advocate Tarana Burke has worked at the intersection of racial justice, arts and culture and sexual violence. Fueled by commitments to interrupt sexual violence and other systemic inequalities disproportionately impacting marginalized people, particularly black women and girls, Tarana has created and led various campaigns focused on increasing access to resources and support for impacted communities, including the #MeToo movement.
Lisa Guerrero
Lisa Guerrero is an award-winning investigative journalist for America's number one rated newsmagazine, Inside Edition, an acclaimed Motivational Speaker, Emcee, and Host whose platform, #BeingBrave inspires corporate audiences, women's organizations and youth groups throughout the country. A former sportscaster (Monday Night Football, The Best Damn Sports Show Period, Fox Sports Report) Lisa was a pioneer. As an actress she starred on Aaron Spelling's Sunset Beach, guest starred on Southland, The George Lopez Show, and Frasier. Lisa played herself in the Academy Award nominated film, Moneyball.
Domestic Violence
According to the National Domestic Violence Hotline, domestic violence is a pattern of behaviors used by one partner to maintain power and control over another partner in an intimate relationship. It can include physical and sexual violence, psychological abuse and financial control. The National Coalition Against Domestic Violence finds that 57% of homeless women cite Domestic Violence as the cause of their homelessness, and 33% of women have experienced domestic violence in their lifetime.
The Childhood Domestic Violence Association cites that children of domestic violence are six times more likely to commit suicide, 50% more likely to abuse drugs and alcohol, 74% more likely to commit a violent crime and three times more likely to repeat the cycle of abuse in adulthood.
Town Clock CDC
Town Clock Community Development Corporation is a nonprofit, 501(c)3 organization http://www.TownClockCDC.org. Our mission is to provide affordable homes and supportive services to survivors of domestic violence and their children. According to a Town Clock CDC resident: "Town Clock opens your mind to where you can sit…to be able to make plans now, I'm stable so I don't have to worry about where I am going to live. I've been here a year so I feel comfortable now, so now let me start making plans towards the future."