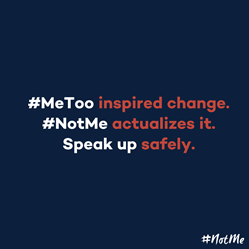 "Stopping misconduct early is the key to healing our society," said actress, Cultural Resetter and #MeToo Pioneer Rose McGowan.
LOS ANGELES (PRWEB) October 15, 2020
Today marks the third anniversary of the #MeToo movement, and yet sexual harassment and misconduct in the US — even for those working from home through the pandemic — remains widespread. #NotMe, a resolution-seeking, mobile misconduct solution has seen a 29 percent uptick in reporting in the last six months, which aligns with the continued front-page headlines exposing companies and people involved in misconduct. The rise reflects the systemic change needed for more effective reporting and more user-friendly, actionable support for victims of abuse. #NotMe's neutral, resolution-seeking platform offers an accessible and actionable way to eradicate workplace harassment.
Recent studies have shown that 3 out of 4 of employees who are the victims of harassment never report it. #NotMe is working to bring this statistic down to zero. "This issue of harassment is an epidemic in our country, across many industries. We are pleased to see forward-thinking organizations stepping up to change outdated company reporting processes to bring their human resources and compliance processes into the digital age while changing the way they stand by their people," said Ariel Weindling, founder and CEO of NotMe Solutions, Inc. and an employment law expert.
Harvard Business Review's article written by #NotMe Ambassador, Lily Zheng, states that "while many companies have some form of anonymous reporting channel, resolution typically requires that employees come forward and expose their identities and themselves to potential retaliation as a result." Zheng states that "opaque, legalistic and inaccessible reporting practices designed to prioritize lowering company risk rather than focusing on resolution and recourse for victims are a major part of the problem. In fact, companies that promote a fairer, flexible, and transparent process for victims may be better equipped to both address deep-seated problems in their workplaces and lower the likelihood that they will be the targets of highly visible discrimination or harassment lawsuits."
Rose McGowan, actress, writer, music artist, women's activist and a pioneering voice in the Cultural Reset that is #MeToo, shared in a video message this week that #NotMe "lets employers keep track of misconduct and simultaneously helps employees have a voice." McGowan stated, "I've been asked so many times, what is the next step? And this is it… #NotMe is safe, it's free, it's easy. We can all be together in a healthier society, and healthier workplace environments, because everybody knows that clear communication and stopping misconduct early is the key to healing our society."
"Companies are beginning to understand that a report from an employee is not a liability, but an opportunity to improve the workplace by keeping it productive and safe," added Weindling. "The adoption of this platform from Hollywood to institutions to (virtual) boardrooms speaks to the ease and flexibility of the app. #NotMe is a streamlined solution that is effectively aligned with today's workforce and the digital comfort and habits of employees."
About NotMe Solutions: Founded in 2017 in response to #MeToo and based in Los Angeles, #NotMe (http://www.not-me.com) is a supportive and open platform, focused on prevention and reporting, empowering people to speak up about misconduct, sexual harassment, discrimination, racism, bullying and other compliance related issues, directly from a mobile app. #NotMe is free for employees, and their AI-powered dashboard enables subscribed employers to truly listen, sort and prioritize employee reports while identifying patterns of misconduct earlier to help prevent escalated, costly issues down the road. To learn more or download #NotMe now, visit https://not-me.com.