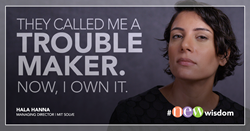 Culture change is the hard part and #NEWwisdom touches people the way only authentic storytelling can.
CHICAGO (PRWEB) November 14, 2018
The Network of Executive Women has launched a new video platform and social awareness campaign spotlighting NEW members at critical reflection points in their lives and careers.
Sarah Alter, president and CEO of the 12,000-member women's leadership organization, said the #NEWwisdom campaign was designed to support NEW members and advance gender equality by depicting challenges and solutions from leaders of every background, gender and age group.
"The magic of NEW has always been our community," Alter said. "Now we are taking that magic and putting it online in the form of beautifully produced and curated films that can be viewed by our members and supporters whenever they want. It shows our members at their most vulnerable — and at their strongest."
NEW member stories premiere today at newonline.org/wisdom. Now showing are films featuring Dagmar Boggs of The Coca-Cola Company, Trudy Bourgeois of The Center for Workforce Excellence, Tara Jaye Frank of TJF Career Modeling, Mike Gorshe of Accenture, Hala Hanna of MIT Solve and Rachel Mushahwar of Intel.
"This is a transformative time for NEW," Alter said. "Several weeks ago, we had our most successful NEW Leadership Summit ever. We launched our NEW Career Booster one-day workshop initiative and recently released our major 'Advancing All Women' report on the workplace experiences of women of color."
Alter said the goal of #NEWwisdom is to "share stories from our community and change the corporate cultures and the conversations. NEW has done a great job of developing individual leaders and we will continue to build solutions to help the C-suite transform organizations. Culture change is the hard part and #NEWwisdom touches people the way only authentic storytelling can."
ABOUT NEW
Founded in 2001, the Network of Executive Women represents more than 12,000 members, 825 companies, 115 corporate partners and 22 regions in North America. For more information about NEW and its learning programs, events and insights, visit http://www.newonline.org.