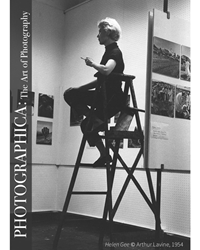 FREDERICK, Md. (PRWEB) October 24, 2018
On Saturday, November 3, ArtistAngle Gallery in Frederick, Maryland debuts 'Photographica: The Art of Photography', featuring a collaborative photography exhibit inspired by the memoir of Helen Gee entitled 'Limelight, a Greenwich Village Photography Gallery and Coffeehouse in the Fifties'. The opening reception for the exhibit will be from 5 p.m. – 8 p.m. in the gallery at 124 S. Carroll Street. Signature coffee will be served from 11:11 Café.
From Wetplate to iPhoneography,19 artists explore photography as an art. The two-month event will be full of all things photography, including the fine art photography exhibit, custom framing and printing options, lectures and workshops.
Exhibiting artists include:
Johnny Martyr, Michael Pannier, James Mignogna, John Nelson, Rebecca Carpenter,
George L. Smyth, Catherine Barnstone Szafran, Susan Bloom, Kayleigh Montgomery,
Lisa Sheirer, Peter Foiles, James Cowman, Beamie Young, Dan Scenna, Mark Rothkopf,
Carol Leadbetter, Frank Cervarich, Braughan Morrison, and Bill Adkins
ArtistAngle Gallery is located on the east side of historic downtown Frederick on the corner of South Carroll and Commerce Streets. The gallery features work from local, regional and national artists. Contact the gallery at 240.285.3758, or through the website at TheArtistAngle.com.