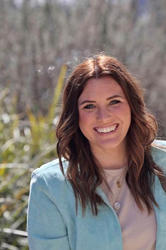 "We are excited to welcome Lindsay Lebahn to the Plug and Play family. Her experience in Topeka, and her passion for community and startups, make her an ideal candidate to help lead our efforts across animal health and beyond," said Stephen Fay, Director of Corporate Partnerships for Plug and Play.
TOPEKA, Kan. (PRWEB) February 25, 2021
Plug and Play Topeka and GoTopeka, a Greater Topeka Partnership organization, have announced that Lindsay Lebahn will be the new Program Manager for the Plug and Play Topeka Animal Health Accelerator. In her role, Lebahn will oversee programming and manage relationships with participating startups and stakeholders. This hire represents the first on-site staff for the startup accelerator in Kansas, with additional hires to be announced.
"I'm thrilled to help launch Plug and Play in Topeka and be a part of an organization that is at the forefront of innovation. It's an exciting opportunity for us as a community to really advance and shape the animal health and ag tech startups reaching for growth in Kansas," said Lebahn.
Lebahn has a rich background in marketing, strategic partnerships and program development. She comes to Plug and Play Topeka with previous leadership and event experience with the Academy of Country Music Awards in Nashville, and most recently with the Bajillion Agency where she served as an Account Executive. Before this, Lebahn was the Executive Director of the Forge Young Talent organization, a workforce attraction and retention initiative of GO Topeka and the Greater Topeka Partnership. Lebahn is a graduate of Rhode Island University.
"Congratulations to Lindsay. She is stepping into an important role that will guide Plug and Play Topeka during its pivotal first stages and on into the future," said Katrin Bridges, Senior Vice President of Innovation, GO Topeka. "Her prior background in marketing and team leadership - and her overall dynamic energy - will help make this role a success."
The program aims to bring innovative startups from around the world to Kansas every six months, building upon the region's fast-growing and robust animal health industry. The startups will go through three-month "accelerator" programs aimed at helping the businesses get off the ground. There is a 70 percent average success rate for companies that go through a Plug and Play accelerator program, measured in follow-on capital raised. Startups selected for the program will receive benefits including office space, mentorship, business development, pitch polishing, deal flow and potential investment.
"We are excited to welcome Lindsay Lebahn to the Plug and Play family. Her experience in Topeka, and her passion for community and startups, make her an ideal candidate to help lead our efforts across animal health and beyond," said Stephen Fay, Director of Corporate Partnerships for Plug and Play. "As Program Manager, she will play a pivotal role for startups as they access our global ecosystem and discover what Topeka and the regional animal health corridor has to offer. I am confident Lindsay will make this experience seamless and further demonstrate why Plug and Play is the ultimate innovation platform."
"With Lindsay in this new role, the Plug and Play Topeka story has really come full circle," said Matt Pivarnik, CEO of the Greater Topeka Partnership. "When Lindsay was previously working for us at the Partnership, we were lucky enough to have her be a part of the team that went out to pitch Topeka to Plug and Play. I firmly believe that her involvement was a contributor to our success in obtaining this new startup accelerator program."
Based in Silicon Valley's Sunnyvale, Calif., Plug and Play brings together startups, investors, and corporations to help find new opportunities to advance and shape their specific industry through innovation. Plug and Play Topeka is one of seven North American accelerators with additional campuses in Chicago, Cleveland, Detroit, Houston, North Dakota, and Northwest Arkansas. In 2019 alone, Plug and Play accelerated 1,450 startups worldwide.
"It's wonderful to see the new employment opportunities being created because of Plug and Play. Not just the jobs created through future startups participating in the accelerator, but jobs that the program itself creates. With this accelerator program, we hope to see many new career opportunities emerge in animal health and ag tech in Topeka & Shawnee County. This is the beginning of significant local economic impact made by the Plug and Play program," said Molly Howey, President of GO Topeka.
About Plug and Play
Plug and Play is a global innovation platform. Headquartered in Silicon Valley, the company has built accelerator programs, corporate innovation services, and an in-house VC to make technological advancement progress faster than ever before. Since its inception in 2006, Plug and Play's programs have expanded worldwide to include a presence in over 30 locations globally, giving startups the necessary resources to succeed in Silicon Valley and beyond. With over 30,000 startups and 400 official corporate partners, Plug and Play has created the ultimate startup ecosystem in many industries. The company provides active investments with 200 leading Silicon Valley VCs and hosts more than 700 networking events per year. Companies in the Plug and Play community have raised over $9 billion in funding, with successful portfolio exits including Danger, Dropbox, Lending Club and PayPal. For more information, visit plugandplaytechcenter.com.
About GO Topeka
GO Topeka creates opportunities for economic growth that provide a thriving business climate and fulfilling lifestyle for Topeka and Shawnee County. The Greater Topeka area in Shawnee County represents a community of 178,915 people, located in the Greater Kansas City region. As the state capital of Kansas, Topeka is home to a dynamic employer base with headquartered companies including Hill's Pet Nutrition, Advisors Excel, Security Benefit, Capitol Federal and Evergy. Topeka is located less than 40 minutes from suburban Kansas City's shops and restaurant districts, less than one hour to downtown Kansas City, including the KC Crossroads District, the River Market and the Country Club Plaza, and an hour from Kansas City International Airport. Topeka is proud to be a part of the #KCHeartland. For more information, visit gotopeka.com.