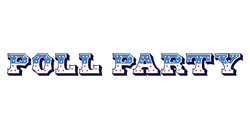 "Thinking your vote doesn't count is a self-fulfilling prophecy. Everybody needs to vote and celebrate democracy in the process. In other words: vote AND party." -Matt Myers, Co-founder and Chief Trimtab Officer, #PollParty
OAKLAND, Calif. (PRWEB) March 03, 2020
#PollParty, a first-of-its kind movement with the mission to dramatically increase voter turnout by shifting the culture of Election Day to be about celebration and activation, starting with an initiative to make Election Day a national holiday. Co-founded by Matt Myers and Ryan Kushner, #PollParty's first activation will take place on March 3, 2020, at Ogawa Plaza in front of Oakland City Hall and feature a keynote by Oakland's Mayor Schaaf at 3pm followed by a performance by poll pole dancers from Flux Vertical Theatre. This first event is intended to create a wave of #PollParty activations around the country during and leading up to Election Day 2020 via their website http://www.pollparty.us.
"It is up to us to finish the work of those who sacrificed their lives for the right to vote for ALL Americans. Let us call upon the energy of Civil Rights leaders past and present to do what must be done. It's time. It's time to make November 3rd, Election Day, a holiday," said Matt Myers, Chief Trimtab Officer and Co-founder of #PollParty. "Thinking your vote doesn't count is a self-fulfilling prophecy. Everybody needs to vote and celebrate democracy in the process. In other words: vote AND party."
What is the problem #PollParty is addressing?: Over 40% of eligible voters DID NOT vote in the 2016 presidential election!
Why is this a problem?: Critical issues such as unaffordable health care and the climate crisis need comprehensive federal responses on behalf of the majority of U.S. citizens.
About #PollParty:
#PollParty is driven to address the above problem by helping make Election Day a holiday in cities and states around the country, such as first movers Sandusky, Ohio and the Commonwealth of Virginia. It is #PollParty's hope that Oakland, the State of California, and cities and states across the country will follow in the footsteps of Sandusky and the Commonwealth of Virginia. Find out more at http://www.pollparty.us or email info@pollparty.us