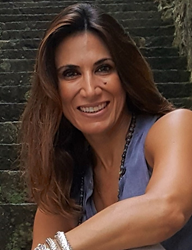 CHICAGO (PRWEB) October 26, 2018
@properties, the No. 1 residential brokerage firm in Chicago and the largest independent realty firm in Illinois, is continuing its rapid expansion into Chicago's west suburbs, hiring an accomplished real estate manager and announcing a new office location in Western Springs.
18-year industry veteran Gianna Ricci has joined @properties as a managing broker and vice president of brokerage services for the firm's new Western Springs office. She will help grow the @properties brand throughout the western suburbs, including the towns of Downers Grove, Elmhurst, Hinsdale, La Grange, Oak Brook, and Western Springs.
"@properties has always been a company that I wanted to be a part of," said Ricci. "Every real estate transaction is an incredibly special process, and @properties has the market expertise, technology and marketing to provide its agents and clients the highest level of service throughout that entire process."
Previously, Ricci was a top-producing real estate agent in the Hinsdale office of Coldwell Banker Residential Brokerage. She also served as a sales manager and coach. She has a proven track record for sales growth and agent development, and is known for training and mentoring programs that help agents elevate their brands and businesses.
"Agents thrive under Gianna's natural leadership," said @properties co-founder Thad Wong. "Her love of real estate and passion for helping brokers enhance their careers will be a great fit here at @properties."
Wong said Ricci will work alongside recently hired vice president of brokerage services, Jim Barcelona to expand @properties' footprint in the western suburbs.
In conjunction with Ricci's hiring, @properties will also open a new 2,565-square-foot office at 4472 Lawn Avenue in downtown Western Springs. The location, which is slated to open in January, is a half-block south of Burlington Avenue and the Western Springs Metra station.
"It's a convenient location for agents and clients, with plenty of parking and a Starbucks within 500 feet. As a local, independent firm, it's the kind of suburban-downtown location we absolutely love," said @properties co-founder Mike Golden.
Wong and Golden said additional @properties locations in the western suburbs will be announced soon. This year, the company has carried out a large expansion initiative with new offices in Arlington Heights, Wilmette, Logan Square, Gold Coast, and Fulton Market. As a result, @properties has taken over the No. 1 market share in the entire Chicagoland region and continues to grow.
"Our growth has been fueled by demand but also by talented managers like Gianna and Jim and the high-caliber agents they attract," said Golden. "There is so much focus on technology in real estate today – and we are very proud of our technology – but the human side of our business has never been stronger."
A native of Oak Brook, Ricci currently lives in Elmhurst with her husband, daughter, and puppy Miso. She is an active participant in her community and has volunteered with the Ronald McDonald House, Special Spaces and the Oak Brook Infant Welfare Society. Ricci is an avid yoga practitioner and in her spare time, enjoys jewelry making, the ballet and traveling.
About @properties
Established in 2000, @properties is the largest residential brokerage firm in Illinois and one of the top 12 residential brokers in the U.S. @properties has more than 2,500 licensed brokers in 27 offices throughout downtown Chicago, surrounding suburbs, southwest Michigan and Lake Geneva, Wisc. For more information, visit http://www.atproperties.com.
# # #