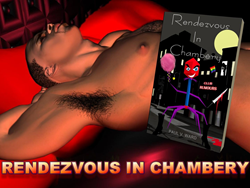 Crime, Romance And Thriller Book.
LOS ANGELES (PRWEB) April 28, 2021
"Rendezvous in Chambery" is a gripping fiction novel that will take readers on a thrilling journey alongside an intriguing protagonist—Patrick West.
Readers will be glued to the pages as they follow the trail of dead bodies that seem to follow him. Full of captivating characters and a plot filled with action, sex and mystery, readers are sure to be on the edge of their seats as they race through the pages to see how it all ends.
For more information please visit our links below.
Book Web Page
https://rendezvousinchambery.com/
Book Purchase link
https://www.amazon.com/Rendezvous-Chambery-Paul-V-Ward/dp/1662400055
Facebook Book Page
https://www.facebook.com/RendezvousInChamberydotcom
YouTube Book Trailer
https://www.youtube.com/channel/UCszuRo-GF-i00_Fgxpo55QQ
For further media inquiries or to use our story in the media please contact us!
You can also leave us messages in the above links.
Meet Me In Chambery!