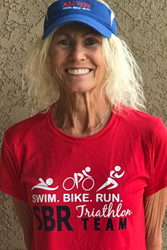 "I am so excited that Linda has joined SBR Coaching as our new running coach," said Pam Nichol, owner of SBR Coaching.
IRVINE, Calif. (PRWEB) November 08, 2018
This six-week program includes two days a week of training and begins December 2, 2018 and ends with the "Rock It Race" on January 12, 2019. It will be headed up by SBR Coaching's new running coach, Linda Kessman.
"Linda is an outstanding running coach and athlete who will prepare SBR clients mentally and physically for all types of races --from trail running to triathlons," says SBR Coaching owner, Pam Nichol. "I am so excited that she has joined the SBR coaching team."
The new SBR Coaching trail running program will help you discover the beautiful trails of Orange County and also train for the Rock It Trail in Aliso Wood Canyons' race.
Here are the details of the training program:

Wednesdays 6-7 p.m. track workout
Sundays 7-9 trail run workout
The only equipment needed is a good pair of running shoes and a water bottle.
Six-week training plan to ensure you are race ready.
For more information, go http://www.octriathloncoach.com or email Coach Pam at coach_pam(at)sbcglobal(dot)net
About Coach Linda Kessman
Linda Kessman has been an endurance athlete for 20 years. She is a three-time Ironman finisher and has competed in hundreds of races, including marathons, ultra- marathons, trail races and all distances of triathlons. She is six-time Boston Marathon qualifier and is often on the podium or places in the top 10. She also coaches high school cross country and track.
About SBR Coaching
Owner Pam Nichol has 12 years of experience as a USAT Level 1 Triathlon Coach, receiving her certification in 2005 at the University of Texas in Austin. She continued her education in 2006 at the USAT USA Triathlon, "Art & Science of Triathlon" in Colorado Springs. She is also an ACSM certified Personal Trainer, Masters Swim Coach and Boot camp Instructor.
Nichol has coached hundreds of adults and children in both group and individual settings in the three disciplines — swim, bike and run. She also conducts group and open water swim lessons at various lake and ocean venues in Orange County. Nichol has completed over 80 triathlons in the last 20 years, including one Ironman and three Half-Ironman finishes. She is also an Olympic distance National qualifier.