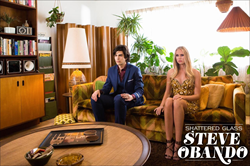 I prefer the guitar because I don't have to think as much, really analyzing as I do on the piano. On the guitar, I'm more unlimited and can explore more. I can focus on the music and lyrics, too, on the guitar.
(PRWEB) October 23, 2018
Steve Obando, singer-songwriter and multi-instrumentalist, has just released his second single "Shattered Glass," a mix of 70's music infused with a modern flair. "Shattered Glass" is the follow up to his debut single "Babylon" that rose to the #2 position on the AC/Hot AC New Music Weekly charts. It is the first original song written, performed and co-produced by Obando to be released.
Shattered Glass's memorable guitar riff and catchy melodic vocals remind you of "Scar Tissue" by Red Hot Chili Peppers mixed with Justin Bieber's "Love Yourself." The rhythmic ballad leaves listeners both hypnotized and wanting more. The song tells the story of a romantic relationship that is disintegrating almost beyond repair which is emotionally conveyed by Steve's powerful vocals that are at times sweet and vulnerable and, at others, despairingly heart-wrenching.
The story and vibe of "Shattered Glass" are further explored in a highly cinematic, 70's themed, music video that was directed by Jaala Ruffman and Michael Easterling (Grow Up, Album). The video stars famed actress Danika Yarosh (Shameless, Heroes) and Steve, himself, going through the routines of a couple that live together but have begun to drift apart. Before the end of the video, they realize their relationship is still worth saving and the couple rekindle their bond in a climactic ending.
"Shattered Glass" was conceived by Steve Obando and critically acclaimed musician Chris Price (Linda Perhacs, Emitt Rhodes). The single was co-produced and engineered by Jorel Corpus (Richard Furchs, Brandy) and Steve Obando. Pre-production was done by Dennis Nieves and it was mixed and mastered by Dan Weston (Hot Chelle Rae, City and Colour). Backing musicians include Johannes Gritschacher on drums (Olivia O'Brien) and Alex Gorchesky on bass (6LACK), both members of Steve Obando's live band. Oscar Llord and Joe Granda handled A&R and Steve performed all guitars, organs and keys on the record.
Steve Obando has been playing music since he was four years old. The singer-songwriter's first love was the piano, but he is just as comfortable with his guitar. An honors alumni from Boston's acclaimed Berklee College of Music, Steve wants to bring back some of the 70's music and incorporate it into a modern context with the freshness and innovation of his generation.
Visit Steve Obando at:
Website: http://obandomusic.com/shattered-glass/
Facebook: https://www.facebook.com/obandomusicofficial/
Twitter: https://twitter.com/ObandoMusicO?s=08
Instagram: https://www.instagram.com/obandomusicofficial/
And, in case you missed BABYLON check it out here: https://www.youtube.com/watch?v=9oJNPNzLf80