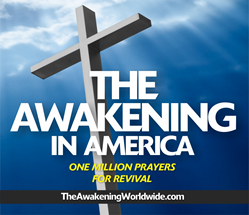 Our goal is to raise one million prayers for America.
LEWISBURG, Pa. (PRWEB) October 02, 2020
Beginning today, The Himmelreich Memorial Library in Lewisburg, Pa. has launched a national outreach for "One Million Prayers for America." The national campaign seeks to have Americans pray for our nation under the banner of "The Awakening in America."
According to the project's organizers, The Awakening is an ongoing initiative designed to call Christians to prayer and repentance. "The Awakening is not political," said Caroline Campagna, head librarian for The Himmelreich, the project's national sponsor. "We are simply a gathering of believers joining together to pray for God to guide our leaders and to heal America."
Leading Americans to Prayer
According to Rev. Ryan Kraus, one of seven leaders offering prayers through daily online videos, "The Awakening is inspired by the clear promise of God in the Bible." Kraus, who serves as pastor of First Presbyterian Church in Lewisburg, PA, cites a well-known Biblical passage as the inspiration for The Awakening:
"If my people, who are called by my name, will humble themselves
and pray and seek my face and turn from their wicked ways,
then I will hear from heaven, and I will forgive their sin
and will heal their land."
– 2 Chronicles 7:14
"Prayer unites us with God and with each other," said Kraus, "God has given us the gift of prayer to bring healing where we are divided. The Awakening is simply an online gathering of Christians who take the promises of the Bible to heart, that as we turn back to God in repentance and prayer, He will heal our land, as He has promised. Our goal is to raise one million prayers for America."
Rev. Walt McCord of San Antonio, Texas – another of the project's online prayer leaders – agreed. "Just 50 prayer-partners in 50 churches in each of our 50 states praying daily can raise millions of prayers in just days," said McCord. "Given the power of online and social media networks to unite Christian believers together in prayer, our goal can be realized."
How to Participate
The Awakening is the non-denominational outreach of The Himmelreich Memorial Library. For more than a century The Himmelreich has been dedicated to the proclamation of the Gospel of Jesus Christ through its library collections, programs, and lending services, all of which are offered FREE to the public. Upon its opening in 1902, The Himmelreich was recognized as "the finest library of its kind in America, and the second largest in the world."
"THE AWAKENING" PRAYER-LEADERS-TEAM (WAVE-1)
NOW OFFERING ONLINE PRAYERS THROUGH NOVEMBER 3, 2020

SUNDAYS – Rev. Walt McCord (Wayside Chapel Evangelical Free, San Antonio, TX)
MONDAYS – Rev. Barb Yorks (Saint Andrew United Methodist, Milton, PA)
TUESDAYS – Rev. Ryan Kraus (First Presbyterian, Lewisburg, PA)
WEDNESDAYS – Rev. Glen Bayly (Ret. Missionary Alliance, Mifflinburg, PA)
THURSDAYS – Rev. Rich Earl (Ret. Mountainside Church, Shamokin, PA)
FRIDAYS – Rev. Steve Shirk (First Presbyterian, Milton, PA)
SATURDAYS – Rev. Andrew Knisely (Elysburg Alliance, Elysburg, PA)
Church congregations and individuals are invited to participate in The Awakening with daily prayers. For more details on joining in and being part of the "One Million Prayers for America," go to http://www.TheAwakeningWorldwide.com.