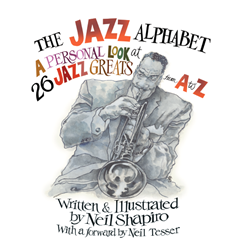 "Look closely enough and you can hear the music." ---- From the forward by Neil Tesser, Grammy winning author, critic and broadcaster
CHICAGO (PRWEB) February 28, 2019
From Louis Armstrong to Joe Zawinul, "The Jazz Alphabet" celebrates 26 jazz artists in pictures and words. In addition, there are depictions of Chicago's Green Mill Lounge and New York City's Birdland. Every musician appears as both a visual portrait (with hand lettered quotes by or about the artist), and a written appreciation. The result, as award-winning illustrator Scott Gustafson says, is "a blending of portraiture, words, caricature and letterforms into a unique and loving tribute." To read more about the book, go to their website.
Neil recently appeared on the PBS program "Chicago Tonight" to speak about the book and his inspiration to create it.
Sunrise Hitek are excited to collaborate with illustrator Neil Shapiro on his labor of love "The Jazz Alphabet". They provide professional quality digital book publishing with best-in-class image quality on their HP Indigo presses, producing full-color artwork with the most vibrant colors. Sunrise also produced accompanying Giclée prints on heavy pearl white, archival quality fine art paper. Specializing in print-on-demand; which is perfect for today's direct to consumer online marketplace; they provided an end-to-end solution which includes printing, e-commerce ordering, payment processing, fulfillment, and shipping.
The Art of "The Jazz Alphabet" will be on view at Lincolnwood Village Hall, 6900 N. Lincoln Ave, Lincolnwood IL 60712, from March 4th until April 25th. The opening reception is Tuesday March 5th from 5PM until 7PM. Original art, Giclée prints, and the book will be for sale.
About Neil
In a 30 year career as an advertising art director, Neil Shapiro created campaigns for national clients as diverse as McDonald's, Gatorade, and Cap'n Crunch. Since then he's had numerous exhibits of his artwork, ranging from shows in Gallery 203 in Bucktown/Wicker Park to the Chicago Cultural Center. In addition to illustrating numerous children's books (Mom, What if I swallowed an Ice Cube?, Wisdom & Wack for the Graduate, and The Amazing Menorah of Mazeltown among them), he has designed murals for the Hubbard Street Mural Project (Buddy Guy) and Old Irving Park Association (Avondale/Pulaski viaduct). His painting "Combo" is currently on display at #6CornersArtWalk.
About Sunrise Hitek
Sunrise Hitek is an Inc. 5000 company established in 1988 and employs the most advanced equipment and technology, such as G7-certified HP Indigo and UV flatbed presses, and digital die-cutting, to create best-in-class color printing, packaging, trade show graphics, and promo products. A privately-owned enterprise, the company is based in Chicago and sells products worldwide.