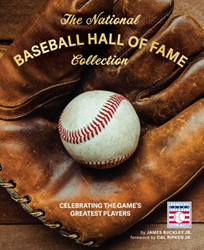 MINNEAPOLIS (PRWEB) August 05, 2020
Officially licensed, The National Baseball Hall of Fame Collection by James Buckley (Epic Ink, September 22, 2020), gathers biographies, statistics, and photos of more than 175 members of the most exclusive club in the sport, all in one beautiful book every baseball fan should own.
Separated into chapters by position, The National Baseball Hall of Fame Collection highlights the best and the most memorable players, events, championships, moments, and more. Meet the greats of the game from before you were born and relive the memories that you shared with your diamond heroes of recent years. The text is updated through the 2020 Hall of Fame elections, with Derek Jeter, Marvin Miller, Ted Simmons and Larry Walker joining their fellow inductees in a book that features:

Profiles of more than 175 legendary Hall of Famers
Photo explorations into rare memorabilia, including replica tickets, scouting reports, scorecards, and contracts
Notable awards, records, stats, and a complete list of the 333 members of the Hall of Fame
Full-color photos and informative sidebars throughout
Become an expert on your favorite teams and players as you take a glorious trip into the storied history of America's pastime. Maybe you won't ever be elected to the Hall of Fame, but after you read The National Baseball Hall of Fame Collection, you'll feel like part of the club!
About the author
James Buckley Jr. has been writing sports books for adults and young readers for more than 25 years after working for Sports Illustrated and NFL. Among his best-known titles are Perfect: The Story of Baseball's Perfect Games; Unhittable; Eyewitness Baseball; The Visual Dictionary of Baseball; and Obsessed with Baseball. He is the author of more than 20 sports biographies for young readers, including the recently published graphic nonfiction title Babe Ruth: Baseball's All-Time Best. His company, Shoreline Publishing Group, produces dozens of books each year for major publishers including Penguin, Scholastic, DK, National Geographic Kids, Simon & Schuster/Aladdin, and many others.
Hardcover • 192 pages • $40.00 USD, $53.00 CAN • ISBN: 9780760369340
EPIC INK, an imprint of Quarto Publishing Group