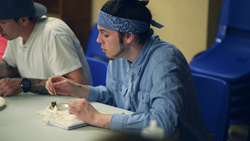 The process of overcoming addiction is much more than just getting off of drugs, or quitting drinking alcohol
Battle Creek, Michigan (PRWEB) June 15, 2016
Anyone who is looking for an effective substance abuse treatment program at a professional rehabilitation facility can find some helpful information in a new video released by A Forever Recovery, a holistic treatment center for addiction located in Southwest Michigan. This video, which can be viewed on the A Forever Recovery YouTube Channel, highlights the treatment center's Cooking Class, one of the many optional program offerings that aims to help patients discover or refine basic life skills that will help them remain clean and sober after they complete their rehabilitation program.
"The process of overcoming addiction is much more than just getting off of drugs, or quitting drinking alcohol," commented A Forever Recovery founder Per Wickstrom. "In reality, true recovery from long-term chemical dependency is a complete lifestyle transformation, where the patient leaves behind the old bad habits and selfish behaviors for a more positive outlook and a more productive way of life. The Cooking Class not only helps patients to fulfill their responsibilities but also to gain confidence in their ability to handle the stress of daily life."
The Cooking Class at A Forever Recovery
The video features footage from the Cooking Class as well as clips from interviews with Matt, one of the patients that participated in the course, and Trent Mead, the Kitchen Director at A Forever Recovery and Cooking Class instructor.
Trent's daily responsibilities at AFR include menu planning, ensuring that the kitchen staff has all ingredients and equipment needed, and providing alternatives for patients that have special dietary needs, such as food allergies or gluten sensitivities. His role at the recovery center translates well into his Cooking Class.
"What I provide is hopefully a full understanding of breaking old habits," he says. "You need to start something new in order to achieve something new. I try to promote that through food – making sure you care about what you put into your body."
Matt tells the viewer how beneficial he found the Cooking Class to be in his recovery.
"I've learned a lot of things to try and get ready for outside life," he says. "It definitely is beneficial trying to keep that balance in time management."
Though it may seem like a simple cooking course, it is part of the thorough rehabilitation strategy that A Forever Recovery offers. Patients at the treatment center discover a sense of self-sufficiency and personal responsibility, finding their path to a brighter, happier, substance-free future.
Blog: http://aforeverrecovery.com/blog/recovery/cooking-afr- instructional-life- skills-class/