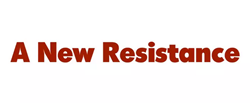 It will be, A New Resistance - Ed Brown
Greenwich, CT (PRWEB) November 30, 2014
For almost 40 years, glyphosate has been embraced for its ability to make farming easier by wiping out weeds in corn, soybean, sugar cane and cotton fields, and drying out crops ahead of harvesting. In addition to agricultural use, over 100 million pounds are used by homeowners and gardeners to keep lawns, playing fields and golf courses perfectly manicured.
But glyphosate is failing to work – resistant 'Super Weeds' are taking over farmland, requiring farmers to use more glyphosate and even more toxic chemicals. Enlist Duo™, a blend of glyphosate and 2,4-D (a major component of Agent Orange) was recently approved for use by the EPA.¹
Glyphosate is an antibiotic, a chelator, and an endocrine disruptor. It is being found inside of our bodies, and is entering the bodies of our newborn children through breast milk. A host of recent studies have linked Roundup and glyphosate to an alarming number of diseases threatening animal and human health, including obesity, diabetes, depression, infertility, cancer, celiac disease, gluten intolerance, irritable bowel syndrome, autism, Alzheimer's and Parkinson's disease.²,³
Scientists are connecting glyphosate to a health crisis in this country, and the standalone statistics for some of these illnesses are staggering: 1 in every 2 children will have autism by 2034, if the current rates continue (according to a March 24, 2014, article by the CDC); The United States currently has the highest rate of infertility in recorded history (according to November 29, 2012, article by Pew Social Trends); Crohn's disease in children has increased by 79% in the past 10 years.
"Statistics like these can no longer be denied or ignored. This one chemical has permeated every aspect of our lives from our food and water to our lawns and parklands. It is time to create our own resistance, in the form of a spark, which will be ignited by this film." – Filmmaker Ed Brown
"A New Resistance" promises to be one of the most important pieces of investigative journalism of our time and the urgency of this project cannot be overstated. In 2015, this deadly chemical once again comes up for renewal. The EPA will be determining if glyphosate use should continue as is, be limited, or halted. In July 2013, despite countless letters and documents submitted in protest, the Environmental Protection Agency (EPA) raised the maximum allowable residues of glyphosate in food – up to 30 times higher. Now officials are attempting to raise the allowable residue again.
The film will be focusing on the history and impact of glyphosate, the accompanying "inert ingredients" that combine with glyphosate to increase its toxicity, and on the people working and volunteering behind the scenes to expose the issues. The film explores why governments are not monitoring for glyphosate exposure, and why food isn't routinely tested for contamination. Renowned scientists and institutions, leading authorities on glyphosate and its effects on the environment, will be interviewed. A groundbreaking new independent research study, currently being conducted in preparation for the EPA determination, will be measuring levels of glyphosate and its metabolite (AMPA) in breastfeeding mothers. "A New Resistance" will be following the study and report on its conclusions within the framework of the storyline.
Upon completion, this film will be distributed globally as a free learning tool, available to anyone searching the internet for information. It will be used—without restriction—by organizations, companies, bloggers and individuals to educate their communities, families, friends, co-workers and loved ones.
"It is time to investigate glyphosate's impact on human health and the environment. It is time to stop raising the residue limits for a chemical that has potentially harmful effects on our health. It is time to stop the use of glyphosate altogether, unless and until peer-reviewed independent studies of glyphosate prove its use to be unquestionably safe." – Filmmaker Ed Brown
Total Budget for film completion: $150,000
Donate at https://www.indiegogo.com/projects/a-new-resistance-now
About A New Resistance
Forty years ago, a toxic chemical was born. It's now in our food, water, air, soil, blood, urine and breast milk. Are we Roundup Ready? A determined man and one camera set out to provide us with the history, the questions, and the answers that have eluded us since the broad-spectrum weed killer became the number one selling herbicide worldwide, with the focus on its key ingredient, glyphosate. Learn more on A New Resistance Film Trailer.
About Brown Saddle Films
Brown Saddle Films is dedicated to exploring subjects with controversial issues relative to the well being of the world we live in today, exposing how it is affecting us now and what the future generations shall be dealing with if change does not take place. Learn more on http://www.BrownSaddleFilms.com
------
¹EPA, epa.gov/ingredients-used-pesticide-products/registration-enlist-duo
²Reuters, April 25, 2013, http://www.reuters.com/article/2013/04/25/roundup-health-study-idUSL2N0DC22F20130425
³Scientific American, June 23 2009, http://www.scientificamerican.com/article/weed-whacking-herbicide-p/