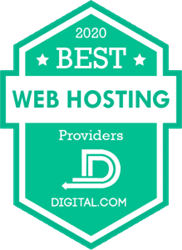 SEATTLE (PRWEB) June 12, 2020
Digital.com, a leading independent review website for small business online tools, products and services, has named A2 Hosting to its list of the best website hosting services for 2020. Top providers were selected based on server types, uptime and load speed as well as customer support.
A2 Hosting is one of 20 companies from across the web that qualified for the list. Experts at Digital.com conducted 50 hours of research and analyzed over 40 web hosting services. Only companies offering multiple server types, faster speed and dedicated tech support were considered for the final list.
"It's a great honor for A2 Hosting, and our high speed hosting solutions, to have been recognized as a top service provider in the industry by Digital.com", commented A2 Hosting's Marketing Manager Brad Litwin. "This is a credit to all of our team members for ensuring that our servers continue to break speed barriers for our customers."
The comprehensive guide also highlights pricing, refund policy and user feedback. To access the complete list of top web hosting providers, please visit https://digital.com/web-hosting/.
ABOUT A2 Hosting
A2 Hosting, Inc. is a high-performance hosting company located in Ann Arbor, MI. A2 Hosting provides their customers with ultra-reliable solutions and 24/7/365 US-based support from their Guru Crew team. Since 2003, A2 Hosting has offered innovative, affordable, and developer-friendly hosting for small and medium-sized businesses and web professionals of all sizes globally. Customers seeking the fastest hosting options in the industry can host websites of any size on A2's Turbo server platform featuring page load speeds up to 20X faster compared to competing hosts.
To learn more about A2 Hosting, visit https://www.a2hosting.com
ABOUT DIGITAL.COM
Digital.com reviews and compares the best products, services, and software for running or growing a small business website or online shop. The platform collects twitter comments and uses sentiment analysis to score companies and their products. Digital.com was founded in 2015 and formerly known as Review Squirrel. To learn more, visit https://digital.com/