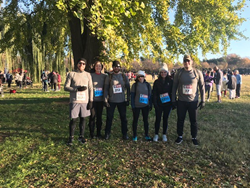 "In addition to the work experience they bring to the table, veterans coming in to our organization bring with them a skillset that we value and appreciate in those we hire, including leadership, dedication and someone who is hardworking and a team player." - Lonnie Spires, CEO and President, A2LA
FREDERICK, Md. (PRWEB) November 19, 2018
On Sunday, November 11th, in honor of Veterans Day, several members of A2LA staff traveled to Washington D.C. to participate in a 10K run & 2 Mile Walk to celebrate our veterans in the nation's capital. A2LA's participation in the event is a testament to the organization's recent initiative and pledge to hire and retain those who have served in the United States Armed Forces and their spouses.
Since the launch of the initiative in 2018, A2LA has implemented and revised a variety of new and existing programs and policies to better support veterans coming in to the association and throughout their career after serving in the military.
"In addition to the work experience they bring to the table, veterans coming in to our organization bring with them a skillset that we value and appreciate in those we hire, including leadership, dedication and someone who is hardworking and a team player," said Lonnie Spires, A2LA's CEO/President.
In return, veteran employees can expect to be met with a culture of innovation, teamwork and a family-friendly atmosphere. A2LA provides new employees with a tailor-made mentoring program, allowing those that come from the military to be successful even if they do not have direct experience in the accreditation industry. Veteran employees also have access to a variety of tools and training in the event they need assistance with transitioning in to a new career as well as resources on how to utilize their VA benefits post-military and much more.
To learn more about A2LA's veteran hiring initiative as well as career highlights from some of our current veteran employees, visit A2LA's veteran career page at http://www.A2LA.org/veterans.
About A2LA
A2LA, celebrating its 40th anniversary this year, is a non-profit, non-governmental, third-party accreditation body, offering internationally-recognized accreditation services and training to testing and calibration laboratories, inspection bodies, proficiency testing providers, reference material producers and product certifiers.