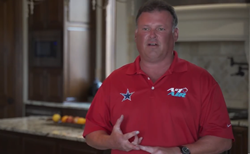 "We're so proud to have received this honor again in 2021," said James Green, President of A#1 Air. "Our employees are the best in the business. It's great to know they love working for us. Happy employees make the best employees."
LEWISVILLE, Texas (PRWEB) November 18, 2021
The Texas Association of Business held its 2021 Annual Best Companies to Work for in Texas Gala at the Fairmont Austin Hotel in Austin, TX on October 4, 2021. For the third year in a row, A#1 Air was named one of the best companies to work for in Texas.
It is quite an honor just to be among the top 100 companies recognized. Last year, the company ranked #2 in the "Medium Employer" category and this year, #3 in that same category. The A#1 Air staff in attendance to receive this prestigious award were Kelly Kapson, Ken Kapson, Jessica Smith, Cody Pruitt, Kaylee Grandell, Lacey Ruttkowski and Meaghan Lucy.
Created in 2006, the annual Best Companies to Work for in Texas Awards are presented by Texas Monthly, the Texas Association of Business, the Texas State Council of the Society for Human Resource Management, and Best Companies Group. The 2019 list of winners includes 100 companies that benefit Texas' economy, workforce and businesses.
Companies from all over Texas entered the two-part survey process. The first part evaluated each nominee for its workplace policies, systems, philosophies, practices and demographics. The second part was a survey given to employees to measure their overall experiences at the organization. Combined scores determined the top companies, and their rankings.
"We're so proud to have received this honor again in 2021," said James Green, President of A#1 Air. "Our employees are the best in the business. It's great to know they love working for us. Happy employees make the best employees."
About A#1 Air
Headquartered in Lewisville, Texas, A#1 Air is the leading heating and air conditioning service provider in the Dallas/Fort Worth Metroplex. The company also provides top-notch plumbing and electrical services. Our highly-skilled professionals are drug-tested, background-checked, licensed and certified, and receive advanced ongoing training to deliver the best possible services to our customers. https://anumber1air.com/