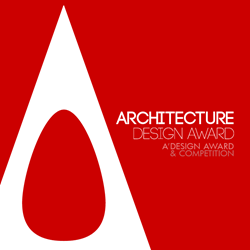 A' International Design Awards and Competition
COMO, Italy (PRWEB) September 19, 2018
The A' Architecture, Building and Structure Design Award is an annual event that admits submission from all around the globe. Architecture design projects that were proposed and/or completed within the last 10 years are eligible to be nominated. The A' Worldwide Architecture Design Award and Competition is presented in several different sub-categories such as; residential architecture, commercial architecture, cultural architecture, institutional architecture and more.
Once submissions are accepted, an international panel of professional jury members will judge the projects for both their technical content and their artistic creativity. Jury members will be looking forward to choose projects which have a capacity to influence architecture design professionals worldwide towards the creation of unparalleled and original designs. Entries to the A' Architecture, Building and Structure Design Award will be peer reviewed and voted against predefined evaluation criteria such as; innovation, ergonomics, flow design, public benefits, functionality, sustainability, creative approach and excellent use of space.
Winners will be awarded with the A' International Design Awards' original 3D printed metal trophy, excellence in architecture design certificate, immense PR campaign, hardcover yearbook of best projects and many other benefits such as exclusive invitation to the Award Ceremony and Exhibition, as well as inclusion in World Design Rankings and Best Designs of the World.
Regular deadline for submissions is on September 30, 2018 and results of the A' Architecture, Building and Structure Design Award and Competition will be announced on April 15, 2019 through a large network of design oriented publications and media partners.
About A' Architecture, Building and Structure Design Award
The A' Architecture, Building and Structure Design Award, annually organised by A' Design Award and Competition, was esteablished to recognise distinguished Architecture design projects all around the world. The A' Architecture Design Award is aspired to create awareness for good architecture design practices and principles and is strongly committed to the idea of supporting creativity and competence in architecture design by promoting best design projects worldwide throughout a wide network of media partners. Interested parties may find more details on the accolade at http://www.designaward.com