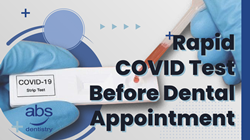 "We will administer The Rapid COVID Test, minutes before your dental appointment, and the test is a simple finger prick." Dr. David Jin, DDS
FORT LEE, N.J. (PRWEB) February 05, 2021
ABS Dentistry now provides COVID-19 Antibody Tests.
Schedule an appointment today.
The patients of A Beautiful Smile Dentistry, already know that they can trust Dr. Jin and his staff to lead the industry in innovation and technology.
Now, in the midst of the pandemic, A Beautiful Smile Dentistry is providing all patients with COVID-19 Antibody Testing before their dental appointment.
COVID-19 Antibody Tests will be given to every patient before their appointment. Simply arrive 15 minutes early, and follow the directions below.
"We know the best way to stop the spread of the pandemic in our community is to prevent the virus from entering our doors." - Dr. David Jin, DDS
To keep patients and staff members safe, A Beautiful Smile Dentistry is now providing COVID-19 Antibody Tests to every patient. This FREE* Testing will be available to patients and their family members only.
Here's how it works: once the patient arrives, they call A Beautiful Smile Dentistry office at 201-224-4400. They will be asked to enter via the WHITE door on the baseball field side for the COVID-19 Antibody Test. Within 15 minutes the test results will be ready, and if negative, the patient will then enter through our main entrance for their scheduled appointment.
A Beautiful Smile Dentistry knows that the pandemic has placed an extra burden on everyone in the community. By providing patients with Antibody testing, A Beautiful Smile Dentistry hopes to encourage patients to continue their dental health and to give patients peace of mind!
*This service is required of all patients and is provided at NO COST to the patient—thanks to the federal CARES Act!—
WATCH DR. JIN ON TV: "Dr. Oz's First Dental Visit During the Pandemic"
https://www.abeautifulsmiledentistry.com/Dr-oz.html
Don't delay vital dental care and prevention, call us today!
Or call us at 201-224-4400