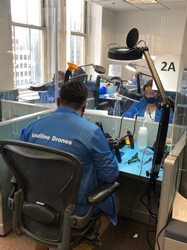 "The Aquiline Drones/Drone Volt consortium is nothing short of epic given the current state of our world. We have overcome the damaging effects of COVID by building an entire drone ecosystem and pushing the limits of technology development," Barry Alexander, Founder and Chairman of Aquiline Drones.
HARTFORD, Conn. (PRWEB) February 26, 2021
Starting a business at any time comes with its myriad of challenges. Add in a global health emergency and the obstacles become seemingly insurmountable. However, two visionary drone technology companies – Aquiline Drones (AD) and Drone Volt (DV) - had the ingenuity, fortitude, and entrepreneurial spirit to create an intercontinental partnership and open the first commercial drone manufacturing facility in Hartford, Connecticut.
"The Aquiline Drones/Drone Volt consortium is nothing short of epic given the current state of our world," said Barry Alexander, Founder, Chairman & CEO of Aquiline Drones. "We have overcome the damaging effects of COVID by establishing ourselves as an escalating U.S. manufacturer in this burgeoning industry - building an entire drone ecosystem, pushing the limits of technology development, and delivering useful capabilities, previously imagined, but never before seen."
Alexander notes that this accomplishment is even more astounding given the fact that nearly 100,000 businesses have permanently shut down during the pandemic, according to Yelp.com's Local Economic Impact Report. The manufacturing sector in particular has been severely crippled.
Following the AD/DV 10% ownership swap in December, 2020, AD undertook the challenge of replicating the well-established, French-based DV manufacturing environment into its new Northeast, U.S. facility. Under normal circumstances, this plan would have required extensive technical and leadership repositioning to facilitate rapid skill and transfer of knowledge. In this case, however, COVID travel restrictions made it impossible for the French and American teams to travel and coordinate these processes in person.
Seamlessly, leaders at AD and DV stepped up to the challenges of the pandemic. Teams on both sides of the Atlantic quickly created a digital training environment with video connections allowing AD to see and emulate the French manufacturing process as it occurred - both recorded and in real-time. In addition to the meticulous information transfer process, highly technical training modules were recorded and digitized. As COVID-19 raged on across Europe and the U.S., virtual teams worked 24/7. Video technology became essential in executing supervisory and quality control tasks.
The result: AD and DV have exceeded extremely aggressive targets outlined in their business plan for current investors and shareholders. AD now has a team of twenty-five technicians working in its new 7,000 square foot, state-of-the-art, drone manufacturing and assembly lab and is now well underway to producing 1,000 American-made drones per month – the Spartacus HURRICANE and the Spartacus MAX. In the coming months, AD will double its employees to staff a second manufacturing shift.
"By using teleconferencing techniques to rapidly test and transfer manufacturing capability, we were able to save a tremendous amount of time and money," adds Alexander.
Moving forward, AD and DV leaders will capitalize on the staggering demand for drones from commercial, military, and governmental markets – from the now opened-up U.S. and European (EU) markets. With joint domination of both the U.S. and 27-nation EU economy, the business consortium is positioned to become even more beneficial to investors and shareholders. Their continuous pursuit of streamlining and integrating will likely quadruple the ROI as they rocket into the cloud-connected drone future together.
Igniting the spark to build a new drone manufacturing ecosystem in the U.S. was The American Security Drone Act of 2019/2020, legislation co-authored by Connecticut Senators Richard Blumenthal and Chris Murphy. This development paves the way for U.S.-based drone manufacturers - such as AD - to enter a red-hot industry growing at 13.8% annually. According to the FAA, drones represent the fastest-growing segment in the entire transportation sector.
"Growing data security concerns over foreign-manufactured technology, mainly from China, has created an immediate need for increased drone production capacity in the United States," said Alexander. "With our assembly plant being physically located in the heart of America's aerospace corridor, we are primed is in perfect harmony with our strategic goals."
On the horizon, AD and DV will conduct the first truly remote drone operations from across the Atlantic. DV operators on the ground in France will remotely control AD drones flying in the U.S. airspace through the world's only drone-dedicated, hybrid cloud created by AD.
"We are literally days away from this massive technology feat and are appreciative of the State of Connecticut's support and assistance in making our venture successful," concludes Alexander.
About Aquiline Drones
Aquiline Drones (AD) is an American drone and cloud solutions company located in the financial district of Hartford, Connecticut. Founded by highly experienced aviators, systems engineers, IT gurus, and business strategists, AD delivers a vertically integrated blend of products and services. Its ecosystem includes a hybrid aviation cloud with edge capabilities for commercial drones, US-based drone manufacturing, 'maintenance-repair-overhaul' services, unmanned aerial systems (UAS) solutions for large enterprises and governments.
Complimenting the company's technology is its superior line of Spartacus AI drone products, a robust UAS training academy, and the country's first 'drone-on-demand' service, enabling customers to order drone services through a proprietary mobile app. AD's full-spectrum of technological solutions are widely applicable across industries and environments for superior, real-time data processing, modeling, and insight. Visit http://www.aquilinedrones.com for more information.
About Drone Volt
Founded in 2011, Drone Volt is an international leader in the field of professional civilian drones and embedded artificial intelligence with operations in France, Belgium, the Netherlands, Canada, Denmark, the United States, Switzerland and Indonesia. With its 3 brands, Drone Volt, Aerialtronics and Dandrone, the company is always developing more innovative solutions for the energy, construction, civil engineering and security industries for applications such as inspection, surveillance, surface treatment, thermography, search and rescue missions. Drone Volt's customers include government administrations and industrial groups such as the French army, the French Ministry of Defense, Engie, Total, Bouygues ES, ADP, the Air Transport Gendarmerie (GTA) and international government agencies. Drone Volt has been designated as an "Innovative Enterprise" by Bpifrance. Visit http://www.DroneVolt.com for more information.