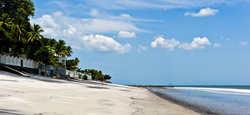 "I couldn't afford a view in Southern California...not even for the weekend. Now, here I am in Coronado, looking out my bedroom window, and I see miles of shoreline."
BALTIMORE (PRWEB) November 13, 2019
"You shouldn't be deceived by Coronado's unassuming appearance," says Jessica Ramesch, International Living's Panama editor. "Many of Panama's wealthy families have homes here, and the expat community is active and well-organized. In Coronado, a couple can live well on $2,800 a month, including a nice apartment rental of $1,500 a month."
"It's not the cheapest community here but there are folks living in Panama on less than $2,000 a month—the location and climate are hard to beat."
In fact, it compares very favorably to California's beach locations, and Jessica recently talked to a California couple who relocated for that very reason.
Judy Whaling and husband, Andy, chose Panama and the beach community of Coronado to start a new life. Close to the cosmopolitan capital of Panama City and mere minutes from the expansive beach, they can dine in the city's gourmet restaurants anytime they like. And they can see the deep blue of the water from their apartment in Coronado— a retirement lifestyle they simply couldn't have afforded back in California.
"We knew we could not afford to stay in California," she says. "So we thought, well…what about living someplace where you'd love to vacation? You could get up every morning and, instead of wishing you could stay on vacay, you could say, 'I live here.'"
Panama checked a lot of boxes—in particular, she and Andy felt the country welcomed foreigners wanting to stay long-term. They visited four times and zeroed in on Coronado—a convenient beach town close to the bustling capital.
The coastal area where Coronado sits is known as the Arco Seco, or the dry arc. Rainfall is only 60-70 inches per year, compared to 100-120 in the mountains and on the Caribbean. Most every morning is sunny and bright, with average temperatures around 88 F during the day. As soon as the sun is gone, the air cools to about 78 F.
Ocean breezes entice residents to keep windows and balcony doors open…all the better to hear the sound of the waves.
"I wanted to be able to hear the ocean. From the building we are in, I can hear it part of the year, and that's perfect. That just feeds my heart," says Judy.
Over the past 10 years, Coronado has transformed. Much of what used to require a drive to the capital can now be accomplished right in Coronado. There are banks, shops, and even a new movie theater. One of Judy's favorite additions is the Arrocha, a drugstore with sections for gifts, beauty products, kitchen and home décor items, and more.
"I'm so happy," she says. "There's also a mall that's very First World; I enjoy just walking through it, even if I don't need to buy anything."
Having an upscale supermarket is another plus—not too long ago these were only found in Panama City.
"It's helped because we missed places like Trader Joe's and Whole Foods," says Judy.
With the Panama City-Coronado region as their hub, Judy and Andy have also been able to indulge a love of travel.
"There's lots to see in Panama. We've been to Bocas del Toro, San Blas, Boquete…we've even driven to Costa Rica," says Judy.
Travel to California is easy enough— there are direct flights to Los Angeles and San Francisco—but Judy and Andy prefer to bring their two sons down to Panama for visits.
"Last year they were both here," says Judy. "Our eldest stayed a month, and I think eventually he wants to move here. He was blown away by what $1,200 a month gets you in Panama City versus Bellevue, Washington."
"We know that International Living recommends renting before you buy, but we didn't do that," Judy says. "When we came out to Coronado and saw that we could get a view for less than a quarter of a million dollars, we said right away, 'We're in!' It was like a dream come true."
Being able to see and walk on the beach whenever she wants, Judy is content.
"As a native Californian I remember a time when I could always get to the beach easily. I'd say 'I want to study on the beach' and be there in 15 minutes," says Judy. Later, as traffic increased, that was no longer the case.
"And I couldn't afford a view in Southern California...not even for the weekend. Now, here I am in Coronado, looking out my bedroom window, and I see miles of shoreline, and mountains, too. This is gold to us…we struck gold."
Much more from Jessica Ramesch's interview with Judy and Andy Whaling and their new life in Coronado, Panama, can be found at A California Beach Lifestyle for Less in Coronado.
Editor's Note: Members of the media have permission to republish the article linked above once credit is given to Internationalliving.com.
Further information, as well as interviews with expert authors for radio, TV or print, is available on request. Photos are also available.
For information about InternationalLiving.com content republishing, source material or to book an interview with one of our experts, contact PR Managing Editor, Marita Kelly, +001 667 312 3532, mkelly@internationalliving.com
Twitter: @inliving
Facebook: https://www.facebook.com/International.Living/
About International Living
Since 1979, Internationaliving.com has been the leading authority for anyone looking for global retirement or relocation opportunities. Through its monthly magazine and related e-letters, extensive website, podcasts, online bookstore, and events held around the world, InternationalLiving.com provides information and services to help its readers live better, travel farther, have more fun, save more money, and find better business opportunities when they expand their world beyond their own shores. InternationalLiving.com has more than 200 correspondents traveling the globe, investigating the best opportunities for travel, retirement, real estate, and investment.