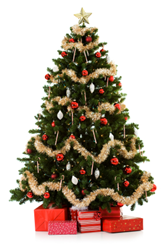 "In this very unusual year, Christmas trees of all kinds, sizes, shapes, colors and price, real and artificial, are taking on greater significance."
LOS ANGELES (PRWEB) December 03, 2020
Sales of Christmas trees, both real and artificial, are surging this season, despite being the most challenging year for both business and consumers in modern times.
"Many of our members have seen sales increases of 200 percent over the same time last year," said Jami Warner, Executive Director of the American Christmas Tree Association (ACTA). "We are very grateful to be in the business of bringing some much-needed joy to so many facing unforeseen hardships," Warner added.
Early holiday decorating gave the Christmas season a jump-start, with strong Christmas tree sales beginning at the end of summer, said Warner.
"With many experts encouraging an early start to holiday decorating to help boost morale and mental health, Christmas trees became an even hotter commodity," Warner said.
"Christmas trees have always been the traditional centerpiece of the holiday season. And in this very unusual year, Christmas trees of all kinds, sizes, shapes, colors and price, real and artificial, are taking on greater significance," she added.