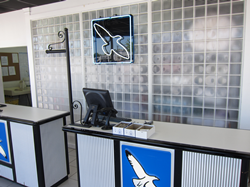 I'm continually hearing that the acrylic blocks add more light to the stores and help create a more open, vibrant store design.
PENSACOLA, Fla. (PRWEB) February 04, 2020
As part of its lobby remodeling process, A Cleaner World® has selected Hy-Lite® acrylic block interior wall panels for the company's dry cleaning stores. Located throughout North Carolina and Virginia, the company welcomes 500,000 customers yearly to its 32 stores.
"As we progress through the renovation of the lobbies in all our locations, we've been incorporating acrylic block walls to separate the customer area from our operational area," says Chris Edwards, president of A Cleaner World. "We're replacing older, solid panels in favor of the more stylish acrylic block walls.
"Both our employees and customers like the new appearance. I'm continually hearing that the acrylic blocks add more light to the stores and help create a more open, vibrant store design."
Edwards and his team have been upgrading the lobby areas of the stores on a regular basis over the past few years. Hy-Lite has provided acrylic blocks in the cross rib block style mounted in aluminum frames with mull strips. The walls panels help create a uniform, more welcoming and tasteful lobby area. With the bulk of the stores refurbished, just five remain to be renovated in 2020.
"The acrylic block walls with our company logo is the centerpiece of our lobbies," says Edwards. "It's the first thing customers see when they enter a store. It makes a clean, bright impression on them."
Reasons for Selecting Acrylic Block Panels
Founded in 1969, A Cleaner World offers a variety of services from dry cleaning of household items and formal wear to uniform and commercial cleaning to rug cleaning and restoration. According to Edwards, foot traffic in the stores is very strong on a regular basis.
"Growing our business means continually creating a welcoming atmosphere for our valued customers," says Edwards. "We selected the Hy-Lite acrylic block walls primarily for their look. However there are other valuable reasons we chose these products.
"The lightweight nature of acrylic blocks means we do not need to cut out part of the floor and add footings to support the panels. They come to us pre-assembled and ready to install. There's no grouting involved, as there would be with glass blocks. That's a huge benefit. We simply put the acrylic block panels together with molding strips."
The "portable nature" of the acrylic block walls is also a distinct advantage for A Cleaner World. Because the walls are removable, they're not part of the building structure. According to Edwards, that's a business tax advantage. Plus, should a specific dry cleaner location change in a marketplace due to an expired lease or for another reason, the acrylic block wall panels can easily be moved to a new location.
Creating a Signature Look
"The Hy-Lite acrylic block walls are now part of our signature look," says Edwards. "It makes good business sense for us to use these lightweight wall panels.
"The light shines through the blocks at night, making the store 'pop' in the darkness as people drive by. And, during daytime hours, these walls have helped create a more welcoming store environment. Overall, we're extremely pleased with how the Hy-Lite acrylic block wall panels have helped us enhance the look of our stores."
In North Carolina, the public can find A Cleaner World locations in Apex, Boone, Burlington, Cary, Chapel Hill, Durham, Greensboro, Hickory, High Point, Kernersville, Linville, Raleigh, Thomasville and Winston-Salem. The company also has locations in Blacksburg and Roanoke, Virginia.
With a strong commitment to quality, innovative programs and community service, A Cleaner World employees expertly handle the cleaning needs of millions of items each year. The company also oversees unique community programs including the 2020 Give A Kid A Coat Campaign for those in need, Cover the City blanket drive for homeless people and the Community Baby Shower that supplies essential items for babies born into families with unique needs.
Hy-Lite, a U.S. Block Windows Company, is the leading manufacturer of acrylic block, glass block and decorative glass windows. The company's privacy product options include acrylic block shutters, accent panels, radius walls, partition walls and door inserts. Since 1988, the Pensacola, Florida-based company has been committed to providing residential and commercial construction professionals and homeowners with elegant, affordable privacy window designs. For more information, visit http://www.hy-lite.com.