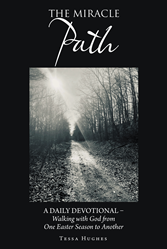 I was feeling the same fear and worry that others felt at the beginning of that time period, I hoped that reading the Bible and writing about the comfort and reassurance I found there would help others
BIRMINGHAM, Ala. (PRWEB) January 05, 2023
Attorney Tessa Hughes, like many, was stuck inside her house during the peak of the Coronavirus pandemic with a lot of time on her hands. She used that time to write a devotional to encourage others to maintain their faith in God and keep their spirits high, even in the worst of times.
The book, "The Miracle Path: A Daily Devotional Walking with God from One Easter Season to Another," was designed by Hughes to be an early-morning devotional that provides uplifting and encouraging reminders for those who face challenges in their own faith and day-to-day tasks.
The devotional begins on April 1st, 2020 and takes the reader through March of the following year, spanning one Easter season to the next.
Hughes's writing also encompasses some of the heart-stopping events that happened during the first year of the pandemic, including: the riots surrounding George Floyd's untimely death, the church burning in Mississippi, the explosion in Beirut, and many other tragedies and surprises from that year.
"I was feeling the same fear and worry that others felt at the beginning of that time period," Hughes said. "I hoped that reading the Bible and writing about the comfort and reassurance I found there would help others."
Hughes wants readers to carry with them the message that God doesn't expect anyone to be on their best behavior to be in a relationship with him.
"The Miracle Path: A Daily Devotional Walking with God from One Easter Season to Another"
By Tessa Hughes
ISBN: 9781664275959 (softcover); 9781664275966 (hardcover); 9781664275942 (electronic)
Available at WestBow, Amazon and Barnes & Noble
About the author
Tessa Hughes lives on a farm in rural Alabama and is a practicing attorney in Birmingham. She received a Bachelor of Arts from the University of North Alabama prior to earning her Juris Doctor at the University of Alabama School of Law and has been a member of the Alabama State Bar since 1993. She and her husband, Joe, have two children and numerous horses and dogs. To learn more, please visit http://www.tessathughes.com.