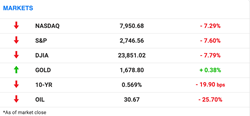 PALO ALTO, Calif. (PRWEB) March 12, 2020
Until fairly recently, we've been lucky to live in an era of economic growth. In light of recent world events, however, we can now say for sure that an economic crisis is going to affect all industries, no exceptions. While some companies prefer to hold tight and wait until recession beats them over the head, experienced entrepreneurs have already undertaken crisis prevention efforts to stay afloat. Reacting to a crisis in the middle of it is similar to trying to save the ship when it is already sinking. When a recession affects your operations, it's better to have a well-developed plan ready to be implemented.
Coronavirus
The rapid spread of COVID-19 in the world has caused an unprecedented plunge in the global market that has been getting worse, ever since the Black Monday collapse. Rising concerns over coronavirus have forced governments in Asia and Europe to implement a set of tough restrictions, which could not help but affect business operations at all levels.
As the disease outbreak is rapidly moving towards Europe, its consequences are becoming more and more evident in the modern fast-paced business environment. Wall Street is currently experiencing its worst period since the time of the Great Depression. With more than £3.9tn in losses, it has recently reported the biggest fall in the value of global markets in recorded history. A similar tendency is becoming evident in FTSE 100, with an 823-point dive in February, which can be converted into £206 billion in losses.
Oil-Price War
The panic on the stock markets was doubled by the decision of the Russian Federation not to proceed with bigger production cuts in the oil sector. Saudi Arabia, together with other members of OPEC, made an effort to reduce oil exploitation with an aim to cope with declining demand due to the coronavirus outbreak. However, Russia's position, based on the belief that the deal would only benefit North American manufacturers, led to the collapse of negotiations in Vienna. The parties were unwilling to make any concessions, which resulted in the next oil-price war between Russia and Saudi Arabia.
When Saudi Arabia reduced its oil price by $8 per barrel, which appeared to be the most significant price reduction in history, Wall Street witnessed the largest plunge since the Great Depression. On March 9, the Dow Jones Index dropped by more than 2000 points, or 7.8% and it continues to fall due to the rapid spread of coronavirus in the world. A similar tendency is observed with other indexes: the S&P has lost more than $5 billion since February. Over 3500 stocks have seen their record-week lows on the NYSE, and this is only the beginning. This day was dubbed "Black Monday", which was the worst trading day since October 2008.
How Can Tech Companies Prepare for the Crisis?
The upcoming economic crisis promises to become one of the most significant events in the history of humanity. If you are wondering how to survive an economic crisis and save your startup from collapse, lead economists advise you not to stop your operations, but instead to carry on providing your services to customers, which will positively affect your reputation after the crisis and save most of your repeat customers. At the same time, this period is the best time to tighten your belt and think of the best ways to cut costs.
The reduction in payroll is often a necessity for businesses during challenging times. You might be forced to resort to headcount and focus on improving your productivity. The best solution here is to undertake effective cost-cutting measures, such as outsourcing or out-staffing, which will provide you with significant competitive advantages in the modern harsh business environment:
You get more with less expense. In the conditions when you're forced to reduce your workforce, you have a need to maintain the same level of productivity by cooperating with service providers. Since rates are lower in developing economies, such as Ukraine, India, and Latin America, you have a chance to proceed with the development process without spending many resources on improving your operations. There are a number of companies with a good reputation ready to provide tech entrepreneurs with excellent value for their money and top-notch software development services. Currently, outsourcing is seen as one of the most effective steps to cut costs without significant risk of disrupting in-house operations.
Fast development and shorter time to market. As a rule, outsourcing companies have a rich talent pool ready to support tech startups at any stage of the development process. Even with tight deadlines, you're likely to find a vendor who will be able to cope with the challenges and provide you with a full-fledged product.
Cost-effective development scheme. Even when most companies experience difficult times, there is still an opportunity to raise funds. In-house development is almost always associated with considerable risks, which might discourage investors from funding your project. If coronavirus spreads further and the financial crisis of 2020 stagnates, startups might consider closing their operations or making a break. By outsourcing your development to a vendor, you provide investors with a cost-effective development scheme that is always seen as an appealing opportunity, even in times of crisis.
Extend your Runway. This point is especially relevant to early-stage tech startups that do not have positive cashflow. Even Sequoia Capital in their memo recommends to prepare contingency plans and save as much runway as you can. Although the forecasts are not optimistic, nobody knows how long this crisis might last, or whether there'll be another financial crisis. Thus, it is better to save now to be able to withstand a few more quarters. Outsourcing might help up-and-coming companies to extend their runway as much as possible.
Economic downfall always marks a difficult period for everyone involved, and only the strongest and wisest are going to survive. Lots of companies have already established their R&D centers in top outsourcing hubs with an aim to leverage the consequences of the economic meltdown. Even with all the challenges involved, such as time-zone differences or communication barriers, it might become a springboard for startups into a new, prospering economy.