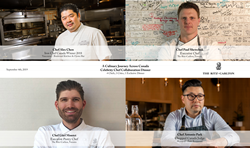 "Local, sustainable and handcrafted cuisine celebrate the true flavours of each ingredient. It is up to us as chefs to use our imagination and push the limits of what we can do with each season's harvest." Executive Chef Paul Shewchuk
TORONTO (PRWEB) August 20, 2019
The Ritz-Carlton, Toronto brings together four of Canada's top chefs on September 4th for an evening that will enliven your pallet and give back to the local community.
Toronto is synonymous with diversity and great food. Guests from all over the world have made Toronto a destination to seek authentic cultural and culinary experiences. To kick off the 44th annual Toronto International Film Festival, The Ritz-Carlton, Toronto invites you to discover the flavours from across Canada.
Iron Chef Canada 2018 winner and Executive Chef of Vancouver's Boulevard Kitchen and Oyster Bar, Alex Chen, Chopped Canada Judge and owner of Montreal's Park restaurant Chef Antonio Park, join The Ritz-Carlton, Toronto Executive Chef Paul Shewchuk and Executive Pastry Chef Gaël Moutet for an evening of celebrating the best that Canada has to offer with a 4-course dinner, Canadian wine pairings and a chance to meet and greet these celebrity chefs.
Chef Shewchuk says, "Local, sustainable and handcrafted cuisine celebrate the true flavours of each ingredient. It is up to us as chefs to use our imagination and push the limits of what we can do with each season's harvest."
The hotel's Community Social Responsibility program, Community Footprints, is an integral part of The Ritz-Carlton, Toronto. Being a part of and giving back to the community is something that we strive to do all year long. General Manager, Franck X. Arnold explained, "During TIFF, there is a lot of glamour and extravagance. We want to make sure that we stay grounded to our core values and help people who are less fortunate. This year, we are donating all profits from our dinner to the Fork York Food Bank. Our chefs will also work with the kitchen to prepare dishes for their clients."
To take part in this one-of-a-kind dinner at The Ritz-Carlton, Toronto's TOCA restaurant, please contact reservations at info@tocarestaurant.com or call 416-572-8008.