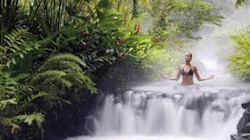 "Mind On Cloud 9" will soon be releasing their first available public product call Emotional Resilience Anytime, Anywhere, the product features the music of Award Winning composer Paul Avgerinos GRAMMY® Winning Artist, who understands the urgent and beneficial applications that this product holds.
MAUI, Hawaii (PRWEB) August 31, 2020
A Cure for Covid-19 "PTS" with Mediation & Hypnosis
At this very turbulent time in the world, when most people on the planet are in a state of panic, experiencing deep anxiety, immense stress, and right now are needing serious relief from a constant state of endless worry.
Right now, a solution is timely when most people on the planet are experiencing a great degree of emotional discomfort, be it fear or worrying about their income or the well being of their family and friends. These real life symptoms can be brutal creating serious real life threatening illnesses including serious stomach ulcers, painful migraine head aches, loss of interest in life, depression, substance abuse, suicidal thoughts, domestic violence, and more.
In reality since the onset of Covid-19 the number of suicides has more than doubled and violence both domestically and socially has been on the rise. In addition the second wave of the virus, is compounding and extending business being lock down and stay at home order reinstated, and social distancing going on now for over 6 months. This is a formula that will in fact yield greater emotional long term damage for the masses. The impact on human lives is only deepening creating megalithic psychological impairment in the billions, something that will be felt for years to come.
People are agonizing with thoughts like will they get the virus and die, will their family or friends get sick and die. Then to top it all off the deeply troubling financial concerns, and the impact of months of isolation in combination with major hurricane, tornados, wild fires and rising sea levels due to global warming is alarming.
These mental health challenges need to be address with serious solutions hence the organization "Mind On Cloud 9" has stepped up to help, they already have been giving those in need free guidance on how to deal with and stay calm using mind tools, like their special brand of meditation and hypnosis that are having great results. They will soon be releasing their first available public product call Emotional Resilience Anytime, Anywhere, the product features the legendary music of Award Winning composer Paul Avgerinos GRAMMY® Winning Artist, a extraordinary music producer who has licensed his music to help nurture this project along, understanding the urgent and beneficial applications that this product holds to address this global concern.
Their web site is http://www.MindonCloud9.com, please share this web site with all you know. They also encourage people to explore other various ways that they can stay calm, face fears and find emotional resilience and comfort in the most challenging of times.
Like Hypnosis, there are many positive aspects of meditation including mindfulness, when hypnotherapy is combined with meditation it can be particularly useful in times crisis.
Their special brand of Hypnosis is an incredible effective method that helps recalibrate the mind from the ill effects of any crisis. Being a passive method where a person can simply listen to the recording while going to sleep each night, it makes it the go to method for people who may not have the time or are too emotionally upset to pull themselves together.
The addition of silent meditation in particular is known to give very good results, combined with mindfulness and hypnosis is a winning formula. Mindful meditation can be described as the practice of paying attention to the silence repetition of any divine name in the present moment, internally on purpose, and judgement free. Taking up a simple practice of only 10 mins a day can bring the much needed lasting relief.
The makers of Mind on Cloud 9, explain that regardless of how intense the crisis in the world gets, mindful meditation is simple its just intentionally refocusing our thoughts and it starts with breathing deeply and slowing, counting as you inhale for five counts, then exhale for 7 counts. Then simply bring the attention to the more pleasant moments in life such strolling in a park, watching a sunset. seeing a rainbow, being inspired in church or at a yoga class or spending time or watching or listening to those who inspire you in a positive way.
In realty any good wholesome happiness experienced from the past works. As this will give momentary relief from the fears, stress, hopelessness and anxiety. In this way a solution can be had, thou sheerly depending on this alone is not the answer, we highly suggest a combination of the Mind on Cloud 9, specially formulated hypnosis in conjunction with the mindful meditation and other modalities is the key to lasting relief. Hence an individual being pro-active with this world class level of brain recalibration products will have a beneficial impact not only on themselves, but their environment and the emotional health of those around them.
We encourage the use of the "Mind On Cloud 9" mind recalibration products in the audio download as it can be self administered any where and any time. We incorporate sound EMDR into the therapy, as this helps to reduce the adverse emotional effects of social isolation, these mind modalities used in tandem together, and is known to cured and / or greatly reduced the effects from high stress crisis situations.
With incorporating hypnosis, mindful mediation and sound EMDR with other brain recalibration modalities into our sessions, our downloadable products are highly effective as are our trained partitioners. Both are able to help calm and bring relief to a person's bodily response to fear, anxiety and hopelessness while helping them visualize the positive aspects of whatever situation they have gone through or are going through at any given moment. Allowing them to build their mind muscles, inner strength and the skills needed to survive and thrive in this world. This allows them to have the emotional stamina, stability and fortitude to be the best they can be for themselves and those around them.
The therapy we provide is given to those in the greatest need for free, hence those that can make a donation can not only get access to the products but get the opportunity to helping pay it forward those in the most need, who otherwise can't afford to purchase the downloadable products or take a one on one session.
Right now you can help with making a generous donation so that we can raise the needed funding to further this noble endeavor and reach as many people as possible at this time of such great need in the world.
Donation can be made via our web site http://www.MindOnCloud9.com
Simply click on the donation button, Or email us at bliss@mindoncloud9.com for more information.