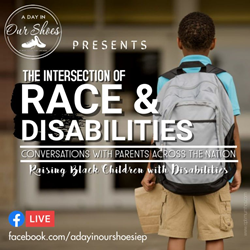 A Day In Our Shoes, one of the most comprehensive websites on special education and related issues, has planned a series of Facebook chats about race and disability. These chats will be led by parents raising Black children with disabilities.
PHILADELPHIA (PRWEB) July 06, 2020
Racism is a significant problem in the special education system. A Day In Our Shoes, one of the most comprehensive websites on special education and related issues, has planned a series of Facebook chats about race and disability. These chats will be led by parents raising Black children with disabilities.
Every Monday at 3 pm Eastern, on the Facebook page of A Day In Our Shoes, a panel of parents raising Black children with disabilities will gather for a series of conversations about Race and Disability. As time allows, the panel will be taking questions from viewers. Each session will conclude with a "What Now?" list of items for awareness and action.
Saafir Jenkins, VP and Chief Public Affairs Officer of Newark SEPAC (Special Education Parent Advisory Council), an organization that actively advocates for disabilities' rights and equity within Newark Public Schools and across the state, will be one of the panelists. Saafir is also the President and Founder of Optimum Human Capital Solutions LLC, a company that is committed to fostering meaningful culture change with people-centered solutions. He explains why he's participating, "The Intersection of Disability & Race series will challenge the thinking for many people. It provides an opportunity for us and listeners to delve into tough topics and raw truths that normally get overlooked or minimized. Blacks in America have a hard-enough time overcoming the obstacles and injustices we face. The added burden of a disability can have disastrous effects (as in the case of Elijah McClain and countless others). A Day in Our Shoes already serves as a platform for families of individuals with disabilities to share their experiences and find support. In the current climate where the struggles that Black people face are on full display for the world to see, such a platform should be used to hear first-hand from parents of Black students about their struggles in finding educational justice in an already broken system."
Lisa Lightner, the founder of A Day In Our Shoes, has been an IEP advocate for over a decade and receives thousands of questions and emails about IEPs and special education a year. Through conversations with parents in the "A Day in Our Shoes" community, she realized she needed to do more.
Lisa Lightner explains, "Having been an IEP advocate for a decade, I have had many clients and educational surrogates who are Black. While I was helping an individual child obtain educational services, I was not working on the systemic issues of racism in public education and special education that made it necessary for Black parents to obtain IEP advocates. There are things we need to hear and learn about systemic racism in education. Even those of us who think we are allies—we need to learn how to be better allies. I committed to using the A Day in Our Shoes platform to amplify the voices of parents raising Black children with disabilities. These parents will lead a series of panel discussions. If you are committed to being a better teacher, disability professional, advocate or citizen, please tune in."
Maria Davis-Pierre, Founder and CEO of Autism in Black Inc., located in West Palm Beach, Florida is another panelist. This organization aims to bring awareness to Autism Spectrum Disorder and reduce the stigma associated with the diagnosis in the Black community. As a licensed mental health therapist, Maria primarily works with parents to provide support through education and advocacy training. She explained her reason for joining the panel, "Black parents raising a child with a disability are often forgotten, meanwhile our children are one of the more vulnerable populations. My top fear every day is that my child will be killed because they see she is Black before anything else."
Viewers who attend the live sessions will be able to pose questions to the panel. If viewers are unable to attend the live sessions, the replays will be available on YouTube, Facebook, and ADayInOurShoes.com. The goal is for all groups—parents, teachers, disability professionals— to come together and listen to experiences from the Black community.
The Facebook Chats will run through the end of August. Here are the chat dates and topics:

July 6- Black and Autistic: What's Different for Black Autistics Compared to White Kids With The Same Diagnoses
July 13-Discrimination in IEP meetings/during IEP process; Retaliation for Advocacy: Tactics Used by Schools to Retaliate Against Black Moms who Advocate for Special Education
July 20- System Racism in Diagnostics: Experiences of Black Moms During Evaluations and by Medical Professionals
July 27- Behaviors and Classifications for Black Students with IEPs.
Aug 3- Suspensions, Arrests, SROs: How the School Disciplinary System Treats Black Children with Disabilities (School to Prison Pipeline)
Aug 10-Disability and English Language Learners: How Parents Are Left Outside the Circle When It Comes to Their Child's Education
Aug 17-Navigating Adult Disability Services For Your Black Child
Aug 24- Mental Illness and the Black Communities: How the System is Different, What Needs to Change
Aug 31- Wrap Up: Exact details and action items TBD.
About A Day In Our Shoes:
Lisa Lightner received a Bachelor of Science from Lock Haven University. She has served as a board member of numerous disability organizations and 501(c)3s. She was named Arc Advocate of the Year in 2012 and is a current blogger and ambassador for multiple organizations.
Inspired by her son with disabilities, Lisa Lightner is an award-winning blogger and advocate. She has previously worked for her county's Arc and has served on the Boards of Directors for several disability organizations. Currently, she is her county's chairperson for the Right to Education Task Force, a federally decreed group set up in 1971 to ensure that all children in Pennsylvania had the opportunity to an education.
When not attending IEP meetings with families or lobbying in Harrisburg and DC for disability rights, she can be found on the web at her IEP advice blog, A Day In Our Shoes, where she shares information, and resources that help parents make more informed decisions regarding their child with disabilities and their IEP meetings, how to communicate with schools and teachers, and other common questions. She is known for her practical, realistic, and implementable advice for parents.
To reach Lisa for speaking engagements, consulting work, or other potential professional opportunities, please email her at lisa(at)adayinourshoes.com.