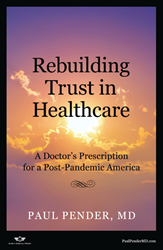 "An important and timely book." –Elaina George, MD, author of Big Medicine
BEDFORD, N.H. (PRWEB) September 20, 2020
Early Arrival Press announces the release of Dr. Paul Pender's new book Rebuilding Trust in Healthcare: A Doctor's Prescription for a Post-Pandemic America. In this non-fiction narrative, Dr. Pender describes how trust develops between doctors and their patients and how internal and external factors contributed to distrust.
The coronavirus pandemic has underscored erosion of trust in healthcare that has been present long before the onset of COVID-19. Pender's analysis of the myriad problems confronting our healthcare system is captured in a case-presentation format. Dr. Pender describes his assessment and plan for rebuilding trust in clear language for patients, healthcare providers and policy makers.
Dr. Pender effectively argues in "Rebuilding Trust in Healthcare" that the patient-physician relationship should be the fundamental building block for any proposal for healthcare reform. Pender states, "I consider the relationship between the individual patient and physician a sacred pact—an expression of mutual trust dating back to the time of the ancient Greeks. When I became a physician, I took the Hippocratic oath, an expression of altruism toward my fellow human beings. However, working in the world of modern medical care, doctors face challenges for living up to the tenets of the oath." Advocating for patients and for physicians has been a passion of Pender's throughout a medical career spanning four decades.
Barbara L. McAneny, MD, American Medical Association Past President, praised Pender's book. "The cornerstone of healthcare, the relationship between a doctor and a patient, is under attack. Hospitals want patients to self identify as being a patient of the hospital and insurance companies want patients to identify with them. But neither hospitals nor health insurers actually care for patients: doctors care for patients. Fortunately for American patients, people like Dr. Paul Pender are fighting back. Using his experience of a long and satisfying career, and a light and humorous touch, Dr. Pender outlines the consequences of losing that crucial, therapeutic relationship. Both doctors and patients become marginalized in the pursuit of profits and consolidation. There are solutions, and Dr. Pender suggests a good place to start."
About the Author
Dr. Pender practiced clinical ophthalmology for 38 years, specializing in the medical and surgical treatment of eye diseases. He completed his residency at the world-renowned Wills Eye Hospital. Honors include a lecture series in his name by the New England Ophthalmological Society and the Secretariat Award from the American Academy of Ophthalmology for his work on webinars for clinicians.
Dr. Pender blogs regularly on timely medical issues. He is available for Zoom presentations, podcast interviews, and any conversation about America's healthcare system. He serves as an advisor to Vxtra Health, a company committed to collaborating with physicians to earn trust and manage healthcare costs. For more information visit: http://www.PaulPenderMD.com
"Rebuilding Trust in Healthcare: A Doctor's Prescription for a Post-Pandemic America" (Early Arrival Press, Fall 2020); ISBN 978-0-578-75596-0. $25.00 paperback, $14.99 eBook; https://www.amazon.com/Rebuilding-Trust-Healthcare-Prescription-Post-Pandemic/dp/0578755963
https://www.barnesandnoble.com/w/rebuilding-trust-in-healthcare-paul-pender/1137592642