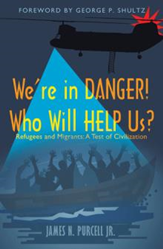 COLUMBIA, Md. (PRWEB) September 06, 2019
James N. Purcell Jr. asserts that well-prepared interventions have gone missing for the basic survival of victims of wars, oppressions, and famine. Unlike U. S. interventions in the last two decades of the 20th century, the world's conscience, he believes, has gone dormant, and governments are left free to ignore or trivialize their moral obligations to humankind. For Purcell, caring societies should not hide from these daunting humanitarian challenges.
In "We're in DANGER! Who Will HELP Us? - Refugees and Migrants: A Test of Civilization" (published by Archway Publishing), Purcell chronicles his experiences working on behalf of civilian victims of war, oppression, and famine. Here, he writes from leadership perspectives gained directing global humanitarian organizations and shares his and his team's daring interventions into the humanitarian crisis in Indochina following the Vietnam War and in other world regions — interventions that he believes saved, protected, and restored the lives of millions of refugees. Presidents, congressional debates, and volunteer groups helped Purcell and his team marshal allies for 20th century solutions, and today, he makes the case for the same unyielding spirit for humanitarian crises in Syria, the Middle East, Africa, Asia, and Central America.
"This book focuses on today's most volatile humanitarian controversy — U. S. admission of refugees, immigrants, and asylum-seekers — an often-misrepresented and highly controversial topic in the public, among politicians, and in news reporting and commentary," Purcell says. "Many in the public are today in search of a strong, well-informed advocacy for changes in refugee policies and practices that will reflect the earlier U. S. successes (often forgotten or overlooked) that led the world to find real solutions."
The publication of "We're in DANGER! Who Will HELP Us? - Refugees and Migrants: A Test of Civilization" aims for readers to be highly informed by comprehensive overviews, analyses, and assessments by engaging participants and experts about previous U. S. policies and strategies to help refugees and migrants. The book also hopes to equip and motivate them to communicate to others that the described contrasts between earlier successes and current failures involve problems that can and need to be solved. For more details about the book, please visit https://www.amazon.com/Were-Danger-Who-Will-Help/dp/1480868809.
"We're in DANGER! Who Will HELP Us? - Refugees and Migrants: A Test of Civilization"
By James N. Purcell Jr.
Hardcover | 6 x 9in | 558 pages | ISBN 9781480868816
Softcover | 6 x 9in | 558 pages | ISBN 9781480868809
E-Book | 558 pages | ISBN 9781480868793
Available at Amazon and Barnes & Noble
About the Author
James N. Purcell Jr. led American and international refugee and migration programs, serving as director of the U.S. State Department's Bureau for Refugee Programs and director general of the Geneva-based International Organization for Migration for most of his career, since 1979. Today, he lives in Maryland and works with humanitarian groups.
Simon & Schuster, a company with nearly ninety years of publishing experience, has teamed up with Author Solutions, LLC, the leading self-publishing company worldwide, to create Archway Publishing. With unique resources to support books of all kind, Archway Publishing offers a specialized approach to help every author reach his or her desired audience. For more information, visit archwaypublishing.com or call 888-242-5904.