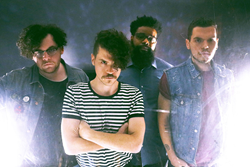 "Scruffy, scratchy indie rock with a dash of psychedelic sweetener."- ODD NUGGET
NEW YORK (PRWEB) January 11, 2019
Southern indie psych-rock staples A Fragile Tomorrow have released their latest track "Circling" and premiered the accompanying video with New Noise magazine. The song is from their new full-length album "Generation Loss", out February 22 on MPress Records.
WATCH THE MUSIC VIDEO
https://youtu.be/TjUF-OMpt0I
LISTEN TO "CIRCLING"
https://mpress.lnk.to/Circling
PRE-ORDER GENERATION LOSS
http://bit.ly/GenerationLossPreOrder
"Everyone needs to know this band...and I mean EVERYONE." - POPDOSE
"Fuzzy guitars, groovy bass lines and grungy yet ethereal vocal harmonies." - EARMILK
"A Fragile Tomorrow have built a reputation around power-pop anthems." - CONSEQUENCE OF SOUND
"Scruffy, scratchy indie rock with a dash of psychedelic sweetener." - ODD NUGGET
The contemplative track's lyrics might stem from tragedy, but the song gets its beat from a historical rock legend. "I was listening to the "Next Day" record from David Bowie and there was a song on there with a really fast-paced groove that almost had elements of dance and electronica," lead vocalist Sean Kelly shares. "It kind of clicked that we should take this in a similar direction, so we did."
Kelly expands, "Lyrically, I wrote the song two weeks after my mother died. I'd just come home to Savannah after staying with Dad, and decided to go into the studio and just see what happened. I obviously couldn't stop thinking about her death, so the lyrics deal prominently with the idea of the end being near but not being able to let go 100% yet."
"Circling" also comes equipped with a striking video that reveals the importance of looking at things beyond the surface level. The band says was that they were inspired by another legendary cult artist, David Lynch, in its visual aesthetic - leaning more towards open interpretation and less on a strict storyline. "It serves as a representation of taking the road less traveled, and opening the door to true freedom while pursuing art for the right reasons," the band explains. "Broadly, it reflects the temptations of fame and glamour as opposed to the sincerity of creativity. The primary character that interacts with the band ends up choosing the higher path of art over the surface-level allure of the fancy parties or the colorful makeup."
With their new album, A Fragile Tomorrow have one mission: to redefine themselves during times of upheaval and rise up more powerful and daring than ever. Topically, the album frequently deals with the recent passing of the Kelly brothers' mother, as previously referenced, who lost her life to an aggressive form of cancer. Some of the lyrics express the fear she had of leaving her children behind during such a dark time in American history.
Musically, the band serves up smart slices of krautrock-heavy psychedelia with an ear for sumptuous production. Mixed by the legendary Mitch Easter (R.E.M., Pavement), A Fragile Tomorrow  worked with co-producers Zach Bodtorf and Ted Comerford on the record to construct the music as a continuous listening experience, often weaving together cinematic intros/outros that bookend the songs. 
Both political and passionate, "Generation Loss" offers an intelligent, yet contemplative outlook for the future while plunging fist-in-the-air forward to push both themselves - and all of us - towards a beautiful, more united and compassionate tomorrow. The album is available for pre-order now at http://bit.ly/GenerationLossPreOrder
For further information and to connect with A Fragile Tomorrow:
website | facebook | twitter | instagram | youtube | spotify | itunes
ABOUT A FRAGILE TOMORROW: A Fragile Tomorrow began as a trio of teen brothers who rose above a difficult, tragedy-laden childhood and channeled their emotions into smart, catchy, dreamy pop music. Having released five independent albums, the band has toured extensively with artists such as Indigo Girls, Matthew Sweet, The Bangles, and Toad The Wet Sprocket. AFT also won an Independent Music Award for their duet with distant cousin, Joan Baez, which Consequence Of Sound called '…a gorgeous and eccentric tribute."
A staple in the Southern power-pop scene, Blurt Magazine dubbed them "One of South Carolina's leading indie lights, period." The members have collectively collaborated with many renowned musicians including Gail Ann Dorsey (David Bowie), Mark Hart (Crowded House), Emily Saliers (Indigo Girls), and Lucy Wainwright Roche.
TOUR DATES
Feb 2 - The White Mule & Bar - Columbia, GA
Feb 15 - Star Bar - Atlanta, GA
Feb 16 - Flicker Theatre & Bar - Athens, GA
Feb 22 - El Rocko Lounge - Savannah, GA
Feb 23 - Queen St. Playhouse - Charleston, SC
Mar 1 - The Evening Muse - Charlotte, NC
Mar 2 - Slim's - Raleigh, NC
Mar 13 - Bourbon & Branch - Philadelphia, PA 
Mar 14 - Rockwood Music Hall - New York, NY
May 10 - State Street Pub - Columbia, SC
CONTACT
PUBLICITY + PRESS
Big Hassle Media
Cory Councill | cory(at)bighassle(dot)com
MARKETING + LABEL PRESS
MPress Records
Tiina Teal | tiina(at)mpressrecords(dot)com