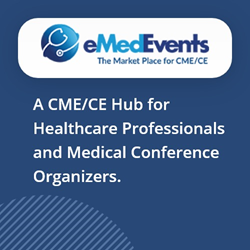 eMedEvents announces a new webinar series for sleep medicine.
MENDHAM, N.J (PRWEB) September 21, 2020
eMedEvents is pleased to announce a strategic alliance with a world-renowned medical device company to create, host and broadcast a new webinar series for sleep medicine. With a global reach of over 1.5 million HCP's to their award winning digital platform, meeting organizers and healthcare companies are starting to understand the position eMedEvents has in the healthcare industry as the world's largest digital marketplace for CME/CE. eMedEvents will be launching the first webinar of this webinar series. The aim is to enrich the online CME/CE learning experience for Sleep Physicians, Pulmonologists, ENT's, Neurologists, Internal Medicine, Primary Care and General Practice Physicians, Physician Assistants and Nurse Practitioners, Sleep Technicians and Respiratory Therapists with best practices in sleep medicine.
The first of this series of webinars is launching live on September 21, 2020 with two more to follow. With the global impact of Covid-19, eMedEvents has helped organizations to quickly pivot from in person learning to online.
eMedEvents has shown sustained growth and the partnership with key medical device and pharmaceutical companies which proves their position in the healthcare education space.
eMedEvents is established in over 159 countries. Over 11,600 prestigious medical education companies and medical schools use eMedEvents to list, market, and host continuing medical education courses. This list includes Thomas Jefferson University, Penn Medicine, Columbia Medical School, Temple University Health System, Harvard Medical School, Cancer Treatment Centers of America, Cleveland Clinic, Johns Hopkins, and Cedars-Sinai, among many others.
As a worldwide virtual CME/CE marketplace, eMedEvents provides a comprehensive catalog for CME/CE events and connects Continuing Medical Education meeting planners and organizations with healthcare providers.
To learn more about various online CME/CE courses, please visit https://emedevents.com/online-cme-courses .
If you are an organization who wishes to list, create, host or broadcast your next CME/CE event please visit https://www.emedevents.com/medical-organizers/
To get in touch with eMedEvents, please visit their website at https://www.emedevents.com or call 303-253-5255.