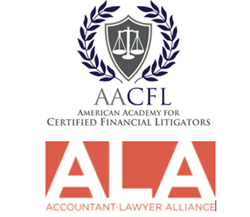 Divorce Professionals - Education, Networking and High Quality Free CLE all included!
NEW YORK (PRWEB) September 01, 2020
The timing could not be more ideal for the combined resources of these organizations to come together for the benefit of the legal and financial communities. At the core of each organization is a mission to enhance these communities with high-quality education that is highly targeted and relevant for the challenges faced by divorce professionals.
The AACFL's mission is to enhance the legal community with advanced financial education. Its signature training program culminates in the CFL credential showcased by many of the finest attorneys nationwide. Currently, the intersection of legal and financial skills is a powerful combination sought after by discerning clients.
The AACFL keeps its members on the cutting edge of financial issues by live and online training taught by the nations' leading lawyers and financial experts. In addition, it hosts Judicial Panel events nationwide designed to bring attorneys, Judges, and financial professionals closer together in their understanding of critical topics.
Partnering with the ALA is a perfect synergy according to board members of the AACFL, which is why they were carefully selected as the only group that we currently authorize to offer the CFL program. They share our commitment to quality education and helping communities. In addition, members of both groups will now have access to more resources, education, and connections to enhance their practices. For those already at the top of their field, and those striving to elevate their practice, this combination of networks has it all.
Members of the ALA will now have access to a national network of elite attorneys, preferential benefits when joining the AACFL, preferential benefits when enrolling in training to become a CFL, and exclusive invitations to AACFL events. Among the many training topics available to them will include divorce specific strategies relating to support analysis, forensic accounting, techniques for detecting hidden money, business valuation, executive compensation, divorce financial statement analysis, property division methodologies and unique considerations, Judicial perspectives, non-cash compensation analysis, tax analysis and cross-examination of experts.
Gold members of the AACFL will now have access to the ALA network of professionals, education and member benefits including:

Unparalleled national and local networking in the divorce community
Ability to connect with the people you need to create a strong team for your clients
Unlimited live CLE and CPE – Never pay for CLE or CPE again! All included with your annual AACFL Gold membership fee. (This benefit alone justifies the price of membership)
Certificate retention through the ALA portal
The ALA Speakers Bureau Opportunities
Building credibility and communicating accomplishments through digital badges and certificates
Education is at the core of the ALA. Their unlimited webinars are not sales pitches, but are courses designed by experts and guided by expert course designers.
Giving Back – The ALA donates to a variety of nonprofits through their voting process. Together, they are making a difference in many critical areas.
Details regarding access to these benefits will be released shortly. The organizations are planning to make them fully available on October 1, 2020.
Nationally recognized credentials, quality education relevant to our times, unparalleled networking, the ability to join and easily connect with local community of divorce professionals, never needing to pay for CLE or CPE again, and being part of the largest network of divorce professionals in the nation……..It seems that communities of divorce professionals and their clients across the nation will benefit greatly!