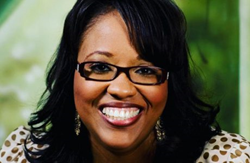 I didn't know how to do it , and I had people who helped me. So it's my responsibility to help that next person.
TEMECULA, Calif. (PRWEB) February 06, 2020
In a recent video interview on "Today's Women," one of Business Insights' newest Roku programs, Vikita Poindexter, a Dallas Cowboys fan tells her clients that as employers, they have to understand their employees are their best assets. But unlike the NFL, there is no concussion protocol for employers who take a big hit for failing to comply with something.
To watch Vikita's full Interview or that of other female business leaders, click here.
During the interview Vikita the CEO of Temecula-based Poindexter Consulting Group talks about the HR minefields California employers face in 2020, as well as the challenges of being a woman business owner. There are a lot of changes coming down the pipeline in 2020 of which Assembly Bill 5 is the most contentious. Poindexter called it "the biggest employment nightmare in California" right now.
AB 5 imposes stricter requirements for employee classifications. It creates a three-part test to determine whether an employee can be classified as an independent contractor rather than an employee entitled to greater labor protections, such as minimum wage laws, sick leave and other benefits. The new law, effective January 1, 2020, has triggered a great deal of criticism and several lawsuits seeking exemptions by employers and independent contractors alike. "The ones that want to be independent contractors are just as livid as employers," Poindexter said.
Now many frustrated employers are scrambling to determine where they stand with the new regulations. Poindexter advises them to not fight it, and go with the flow instead. "It's California. Nothing surprises me when it comes to employment law in California," she said. "The goal is, it is what it is. What do we need to do to work around it. What do we need to do to be compliant with the law, and still be able to do what you need to do."
For frustrated independent contractors, such as truckers or hairstylists, she advises them to set themselves up as a legitimate business to reduce their liability. AB 5 is just one landmine for employers to navigate past. Poindexter rattled off a list of other pending issues in California in 2020, including an increase in the minimum wage and an increase in paid sick leave. The list went on.
"Employment law in California is a little challenging because California is an employee-friendly state," she said. "It's not employer-friendly." Most midsize and small employers can't keep up with the constant changes and additions to California's employment laws. "In California, it's not what you didn't know. It's what you should have known," Poindexter said. "They don't give you any grace if you didn't know you were supposed to be compliant with something." As a result, Poindexter's services are in high demand, especially among business owners who don't have an HR department. "We'll come in and evaluate the business. Sometimes we restructure the entire business. We will look at their policies, procedures, and their corporate structure," She said. "We are the HR department. We just don't have an office on sight."
Her mission is to help these employers build a culture of compliance. "Happy employees don't sue. If you take care of the employees, your employees will take care of the business. If you don't, they have the potential to shut it down."
When Poindexter isn't consulting employers, she's often helping others in her community, particularly other women in business. Poindexter, a recipient of the 2019 Spirit of the Entrepreneur Awards and president of the Inland Empire National Association of Women Business Owners, said she believes she has an obligation to help pull other professional woman up and over the cliff's edge. She understands what they need to do.
As a single mom with a chronically ill child, Poindexter said she had to learn how to manage a business while being at her son's bedside in the intensive care unit. "I didn't know how to do it , and I had people who helped me. So it's my responsibility to help that next person." She encourages women to take advantage of help offered by such organizations as the NAWBO. "It's the only premiere organization for women that deals with advocacy," she said. "We're not a networking group. We advocate on behalf of women business owners." The trick, she said, is to find a niche. For Poindexter, she found her niche in providing outsourced HR services to companies with less than 100 employees. She said it's a target market for which she is ideally suited partly because she is a woman; moreover, a woman of color.
"I don't know a woman who hasn't been harassed in the work place; a woman that hasn't been discriminated against," she said. "So for me, what's been beneficial in my business is when I go in and have a conversation with a business owner, who better can help you navigate through some of those issues than somebody as myself." She tells other women who aspire to master a piece of the business world to just go out and do it. "So many times we let fear stop us from taking that leap of faith. I tell women, don't be afraid to try," Poindexter said. "Failure is in 'not' trying. You can't fail if you try."
"Today's Woman" can be view on Roku just search for "Business Insight".
Contact information:
Poindexter Consulting Group
951-926-9069
http://www.pcghr.net
Inland Empire National Association of Women Business Owners
951-703-2266
nawbo-ie.org