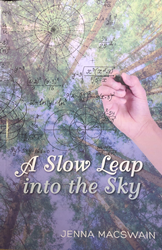 The road to Silicon Valley was paved by tons of forgotten work by talented women in physics, math, and engineering.
CAMBRIDGE, Mass. (PRWEB) February 14, 2020
Alexandra Harris isn't your run-of-the mill physics professor. While most of her contemporaries (you could hardly call them peers) were giggling through middle school, the gifted female prodigy was well on her way to earning her doctorate in theoretical physics. Now, at the tender age of twenty, she's a full professor at a prestigious California institute teaching much older students the ins and outs of Hilbert Spaces, the Banach-Tarski paradox, and what it takes to navigate the higher realms of science as not only a child, but a female child at that. It's a treacherous path brought richly to life in A Slow Leap into the Sky (Fulton Books, paperback, $21.95), Jenna MacSwain's engrossing new novel about sex, love, and billion-dollar ideas in the beginning days of Silicon Valley.
"I've always felt somewhat haunted by the thought that the contribution of women in physics and mathematics is underplayed, if not buried entirely," says MacSwain who, herself, was one of the first women admitted to Cal Tech in the 1980s and whose work paved the way for some of the most impressive advances in artificial intelligence today. "I held thirteen patents by the time I was twenty-three," she says, embarrassed at the immodesty. "The road to Silicon Valley was paved by tons of forgotten work by talented women in physics, math, and engineering." And while the gripping narrative in A Slow Leap into the Sky is by no-means autobiographical, MacSwain does admit that it was inspired by someone she knew at Cal Tech, unable to survive in a man's world as well as the author herself apparently did. "The beginning days of Silicon Valley and the academic institutions from which it sprang was a brutal place for women scientists. I chose the ending I wrote for Dr. Alexandra Harris, the story's heroine, precisely for that reason."
Make no mistake, A Slow Leap into the Sky is no academic treatise; you could loath math and physics and still get swept wonderfully away by the decades-long love story that MacSwain lays out with both the precision of an engineer and the heart of a poet. The writing is fast, fun, crisp and insightful. One can learn a thing or two about love and commitment, much as the heroine does, by watching Dr. Harris blossom from the insecure twenty-year-old genius she starts out as to the scientific powerhouse she becomes. The thread through it all is her life-long love affair with an older man, Dr. Frederick Lund, one of the early academics to turn his ideas into dotcom billions. MacSwain presents the waxing and waning and waxing again of this smart, exciting couple in a way that makes you eager to know what happens next as you're pondering the nature of learning to love.
MacSwain's brisk novel has plenty of implications for women today. "Did you know that until 2018 only two women were awarded the Nobel in physics? Madame Curie, 1903, and Maria Geoppert Mayer, in 1972," MacSwain explains. "And it's not like there weren't amazing women doing exciting things in physics. Many of their contributions were erased from history or attributed to male colleagues over that period of a hundred and fifteen years." The truth—no surprise—is that the Nobel "boys club" that started after Marie Curie won one of the very first prizes has made it difficult for women in the field. "There's a message here, I think, that's congruent with the push for STEM (Science, Technology, Engineering, and Math) among girls and young women today," says MacSwain. "I was very gratified to see the Nobel in physics go to Donna Strickland in 2018 for her pioneering work in pulsed laser technology. Let's hope it doesn't take another 46 years for the next one."
Let's also hope MacSwain continues to bring her refreshingly intelligent perspective to the literary world again soon.
Jenna MacSwain was a scientist and engineer before turning to writing fiction. She attended Caltech and Berkeley and worked for the kind of companies that aspired to build things like HAL9000 and the Holodeck. She now lives in Cambridge, MA and studies block chains, quaternions, and quantum dots while dreaming of stories filled with brilliant and inspiring women.
For more information, visit http://www.aslowleapintothesky.com.
Media contact: Victor Gulotta
Gulotta Communications, Inc.
617-630-9286
http://www.booktours.com
victor@booktours.com