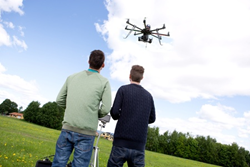 SANDY, Utah (PRWEB) September 27, 2018
McNeil Engineering, a Sandy, Utah-based engineering firm is leading the way with cutting-edge technology designed to provide a 'higher perspective' on client projects.
Lack of information can often lead to costly mistakes on engineering projects. In order to provide the best possible information and avoid errors that waste both time and money, the McNeil team is using drone technology to take a top level view on projects that might otherwise require design and construction teams to make an educated guess.
Land surveying, mapping, construction management, asset management, and volumetric surveys all benefit from the use of drone technologies. Use of a drone to take an aerial view allows for greater perspective on a project, and assists in use of 3D mapping and scanning technologies.
To learn more about how the McNeil team uses drone technologies, and what they can do for you, please visit the website or contact the team for more information.
McNeil Engineering's Matthew Roblez, S.E., SECB is also available by phone or email to take additional questions.
About McNeil Engineering
For 35 years, McNeil Engineering has provided comprehensive design services including civil engineering, structural engineering, land surveying, high-definition scanning (HDS), landscape architecture and consulting services to the private and public sectors. The company is committed to delivering timely, responsive and economical design solutions to each and every one of their clients. For McNeil Engineering, project deadlines are an absolute, not a goal. For more information visit https://mcneilengineering.com/contact/mcneil-engineering/