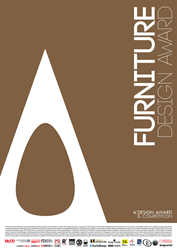 A' Design Award and Competition
COMO, Italy (PRWEB) September 21, 2018
Today, the A' Design Award and Competition is organizing Furniture Design Award in order to attract talented designers, creative agencies and branding companies from all over the globe to highlight good design works which are innovative and sustainable.
The International A' Furniture Design Award is an annual event that aims at selecting and promoting best design works developed by students, professional designers, studios and agencies. The A' Furniture Design Award is a two phase competition that requires a submission of a concept work or realized project for preliminary evaluation. The second step is to nominate design work in order to allow jury members to evaluate it alongside the other projects, however nomination fee is required to be paid.
International jury panel consisting of 211 members are assessing design projects that submitted to A' Design Award based on a multiple criteria such as functionality, design aesthetic, innovation, creativity and sustainability to select best design projects worldwide.
Regular deadline for submission is on September 30, 2018 and winners will be announced on April 15, 2019. Laureates will granted A' Design Prize which includes: extensive PR campaign, professional certificate and trophy, lifetime license to use the A' Design Awards winner logo, inclusion into the yearbook of the best designs, exclusive invitation to Gala Night Ceremony and Exhibition in Italy with all the winners and press, inclusion in the World Design Rankings, Designer Rankings and Best Designs of the World.
About A' Design Award and Competition
The A' Design Award and Competition has been established to highlight and recognize the best designs in all creative disciplines around the globe. The primary goal of the A' Design Award and Competition is to create a global awareness and understanding for good design practices and principles, thus competition aims at pushing designers, agencies and brands worldwide to create superior products and projects that benefit society. To learn more about the A' Design Awards and the A' International Furniture Design Award please visit http://www.designaward.com