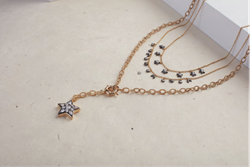 Malikat is not a collection solely made to shed light on ancient Egyptian women, rather a reminder about what women can achieve today. "I put a very personal part of me in this collection because I truly want women to connect together and most importantly cherish their inner queen," said Shaker.
LOS ANGELES (PRWEB) November 13, 2019
AMMANII Jewelry was born from the desire to tell stories and unite women while transcending cultural barriers. Taking us back to the roots of jewelry, there is a shared journey of hope and revived dreams translated through every design. It's meant to provoke courage and inspire a vision of a global sisterhood with a purpose of creating a better tomorrow. AMMANII's stories overlap, and the common thread shared by the label is a desire to find fulfillment, purpose and courage. This is jewelry that builds connections because people are better together than apart; that's the core of the brand.
Raised with a passion and eye for jewelry design, CEO and chief designer Amany Shaker, who is of Egyptian heritage, has always been fascinated by the ancient Egyptian civilization. Amany studied psychology and got her graduate degree in negotiating conflict resolution – a topic she has always been fond of. Having lived in eight different countries and worked with a global NGO for over 18 years, Amany combined her background in peace building and conflict resolution with her passion for jewelry design by creating timeless pieces, helping women understand cultures other than their own through telling stories of hope and courage.
"Each design is an ambassador of peace to tell an empowering story of connection and hope," commented Amany Shaker CEO and founder of AMMANII Jewelry.
AMMANII's S'amma collection, is named after the Arabic word "sky." This collection is an homage to the sky- the universal blanket we all live under. It is the one thing that truly and indiscriminately houses everyone under it, regardless of race, gender, religion, etc. There are no boundaries and no limits, just a never-ending connection with a protective eye watching and guarding us all.
In light of the increasing women empowerment movements, AMMANII is taking the opportunity to pay tribute to the ruling females of ancient Egypt in her Malikat = Queens Collection by telling the stories of the inspiring work they did in governing countries, leading armies and unifying their people. Always keeping the same DNA, but with a bold twist this time, Malikat features a splendid collection. By infusing historical elements with a modern approach, the attention to detail in each piece makes each one a masterpiece in its own right.
Other Press Coverage