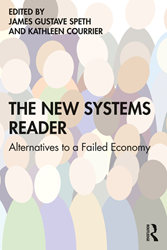 This collection—a veritable who's who of visionaries—is a must-read for anyone interested in creating an egalitarian, sustainable and humane successor to capitalism.
WASHINGTON (PRWEB) October 15, 2020
A just-published anthology, The New Systems Reader: Alternatives to a Failed Economy, is offering new approaches to solving the fundamental challenges of a time in which multiple existential crises are throwing into question the capacity of today's political economy to address them.
This book's 29 essays offer a rich trove of ideas and examples for a new level of discussion and policy formation that breaks free of stale debates and explores needed deep, systemic changes. It is essential reading for students of economics, political science, and sociology, as well as anyone interested in cutting-edge thinking about how our society can be reimagined for the common good.
"This book could not be emerging at a better moment," says Bill McKibben, the world-acclaimed author and climate activist. "Many more of us now realize that we need new models for our collective life, and it will come as a relief to many readers to know those models are out there, with people hard at work figuring out how we can build them to scale in time. A landmark book!"
"The pandemic of 2020 has made the question of economic and social transformation ever more urgent. As the failures of neoliberalism multiply, what should take its place?" says noted author Juliet Schor. "This collection—a veritable who's who of visionaries—is a must-read for anyone interested in creating an egalitarian, sustainable and humane successor to capitalism."
Annie Leonard, executive director of Greenpeace USA, says The New Systems Reader "puts to rest, once and for all and not a moment too soon, the most nefarious of lies: There is no alternative. Its pages present compelling alternatives that promise a more fair, more healthy, more thriving economy, along with road maps to get there."
The essays have been compiled and edited by Gus Speth, a longtime environmental leader and co-chair of The Next System Project at The Democracy Collaborative, a US-based organization founded in 2000 to advance a vision of a "democratic economy" through policy research and real-world projects, and by Kathleen Courrier, a communications professional with a long history in public policy.
Speth explains that after he helped launch The Next System Project in 2015 as an incubator of bold ideas for reshaping the global economy, "I saw that we had an opportunity to pull together a group of the best thinkers to address an essential question: if today's system of political economy is failing across a broad front, what next systems are possible that would truly serve people, place, and planet?"
The resulting volume reflects the work of 38 authors whose expertise traverses the fields of academia, politics and community organizing. Much of their work was originally written for The Next System Project and published under the title New Systems: Possibilities and Proposals before being updated and augmented for this new volume.
"With the human suffering of the COVID-19 pandemic mounting as I write, the manifold failings of our current system cry even louder for fundamental change. Indeed, the many movements for a new, democratic economy directly inspiring the authors contributing here are already beginning to work toward making such shifts in practice," Speth concludes in the book's foreword.
The New Systems Reader is published by Routledge, an imprint of the Taylor and Francis Group. The book is available directly through the publisher as well as major book retailers.
The complete list of contributors to The New Systems Reader:
Kali Akuno
Michael Albert
Gar Alperovitz
Hans A. Baer
David Bollier
Marvin T. Brown
Jenny Cameron
Libbie Cohn
Andrew Cumbers
Kelly Dombroski
Riane Eisler, JD, PhD
Nia K. Evans
Christian Felber
Lorenzo Fioramonti
J.K. Gibson-Graham
Jessica Gordon Nembhard
Gus Hagelberg
Robin Hahnel
Sacajawea Hall
Stephen Healy
Tim Jackson
Zitto Kabwe
Emily Kawano
Lane Kenworthy
David C. Korten
Michael T. Lewis
Henning Meyer
Ethan Miller
Paul Raskin
John Restakis
David Schweickart
Michael H. Shuman
Richard Smith
James Gustave ("Gus") Speth
Aaron Tanaka
Peter A. Victor
Ed Whitfield
Richard D. Wolff
Members of the media may request a review copy of the book, or arrange an interview with Gus Speth or any of the chapter authors, by contacting press@democracycollaborative.org.
# # #