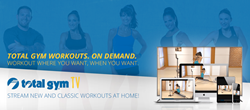 EXTON, Pa. (PRWEB) September 10, 2018
Trusted for over 40 years, Total Gym has been empowering home users, physical therapists and fitness professionals for nearly four decades. With over 4 million customers worldwide, Total Gym has helped millions reach their fitness goals.
Much anticipated, Total Gym® TV enables the Total Gym home fitness enthusiast to work out where they want, when they want with 24/7 free stream access to 16 Total Gym Classic Workout Programs. The on-demand platform also offers a subscription-based option with Premium Workout Programs releasing each month – with nearly 50 new Premium Workout releases planned for this year.
With Total Gym® TV, no DVDs are required. Workouts are streamed on-demand online requiring only an internet connection and browser. Because Total Gym® TV is internet-based, content can be accessed from any internet-enabled device with a browser.
A vast collection of new program titles and content, Total Gym® TV Premium Workouts were developed and delivered (work-along style) by a mix of top personal trainers and fitness experts. Premium subscription members will enjoy workout programs by favorite trainers like Rosalie Brown and Maria Sollon and will also be introduced to new faces to Total Gym like Fitness Hall of Famer & Fitness Video Pioneer Cathe Friedrich, TV Fitness Personality & All-American Lacrosse Player Carrie Wightman and Strength & Conditioning Coach Devin Gage.
Learn more about Total Gym® TV at tv.totalgymdirect.com
About Trainer Rosalie Brown
Rosalie Brown is a respected expert on all matters of health and fitness. She has appeared in over 50 exercise videos, countless TV and radio interviews, TV shopping networks, published articles in major magazines and lectured at several universities and fitness conferences. She has also helped train dozens of Professional Athletes and Celebrities including singer Paula Abdul, boxer Lennox Lewis, actress Suzanne Somers, gymnast Mitch Gaylord and hockey great Bobby Hull.
About Trainer Maria Sollon
Maria is a certified personal trainer and fitness expert, specializing in Pilates, Performance Coaching, and Corrective Exercise Techniques and Kettlebells. She is the creator of the Plyo Pilates Method and has developed a series of amazing workout DVDs. She is a Total Gym Master Trainer and is a fitness writer for accredited magazines, newsletters, and fitness blog sites. Maria demonstrates her knowledge each day and uses her dynamic creativity throughout her specialized line of work.
About Trainer Cathe Friedrich
Cathe Friedrich is a fitness professional and leading innovator in the home exercise video industry. For over thirty years, Cathe has built a following by providing fun, flexible and motivating ways to exercise and stay fit! Today her fitness empire, which includes over 400 DVDs and live stream workouts, is one of the largest privately-owned fitness video libraries in the world. Cathe's dedication and strong influence on the fitness industry led to her induction into the Fitness Hall of Fame in 2011. Cathe's motto has always been, "if it doesn't challenge you, it doesn't change you!"
About Trainer Carrie Wightman
Carrie is a fierce fitness instructor, creator, health and wellness guru for nearly 2 decades. Customizing workouts for nationally recognized fitness studios and gyms, Creator of Carrie's Outdoor Bootcamp, On-Air TV Fitness Expert host for QVC, International Infomercial Spokesperson, Published fitness articles, Appeared and Interviewed on TV and Radio sports channels. Avid sports fanatic – All American Lacrosse Player at a Division I University.
About Trainer Devin Gage
Devin Gage is a certified fitness professional from the Philadelphia area who has helped thousands of people reach their fitness goals and improve their health at Gage Strength Training since 2012. Devin has used his years of experience working with people of all ages and ability levels improve their health, build functional strength and improve the overall quality of their lives. Devin believes there is no "one size fits all" program and has been successful helping people who have never had success in a "traditional gym" achieve amazing results!
About Total Gym® Direct
The Total Gym® is the ultimate workout machine utilizing an individual's own bodyweight as resistance to perform more than 80 total-body functional exercises. Total Gym uniquely incorporates the use of multiple muscle groups together in all planes of movement, the most efficient way to exercise and see results. Total Gym, rooted in the physical therapy market since 1986, entered the consumer "home fitness" market in 1996 with the airing of its first television infomercial featuring long-time user Chuck Norris and co-host Christie Brinkley. The Total Gym infomercial is one of the industry's longest-running and most successful; broadcast to 85 countries and credited with sales of over four million units worldwide. For more information, visit TotalGymDirect.com or call (877) TOTAL - GYM.
###