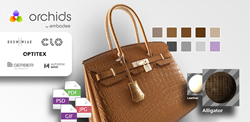 We set out to help streamline the highly manual, overly complex, and costly design processes. The key? Leveraging the web for faster product creation in easy-to-use, stunning 3D. Collaborating and communicating online means stakeholders anywhere get to 'yes' much sooner. — André Wolper, Embodee CEO
SAN JUAN, Puerto Rico (PRWEB) March 31, 2022
Embodee, the fashion industry's 3D technology innovator, today launched a first-of-its-kind web platform that makes it easy to design fashion products in 3D. The Orchids platform is simple to use — anywhere, anytime, and all online. How simple? It requires little training and no specialized 3D skills, complex software, or powerful computing.
A 12-month beta program proved the platform's rich array of features and functions. In one company's pilot project, two designers without 3D technical skills needed only two days instead of ten to create 250 designs in 3D for presentation to a buyer.
The platform isn't just easy to use but also has configurable pricing to support companies with many or few users. Signing up online takes only minutes, and access starts immediately. The first 15 days are free. Monthly and discounted annual pricing is available based on the number of users and gigabytes of data stored. Find all the details here.
Central to the platform is effortless virtual collaboration and robust communication from any web browser. For example, as designers create products, other Orchids users view them and comment in an ongoing feedback exchange. The vividly detailed 3D product images are also shared via links emailed or texted to colleagues, partners, and vendors.
Other major benefits: Orchids easily connects with the industry's 3D authoring software programs, product lifecycle management systems (PLMs), e-commerce platforms, and digital material libraries. High levels of productivity can be attained in just a few hours, even without dedicated training. A series of tutorial videos shows how the platform works and how to quickly use it.
Three years in development, Orchids highlights Embodee's mission to help the fashion industry efficiently create, produce, and sell products. More broadly, the platform adds momentum and new capabilities to fashion's digital transformation. Industry insiders describe the platform as the "last mile" in the long march to full digitization.
"We set out to help streamline the highly manual, overly complex, and costly design processes," said Embodee CEO André Wolper. "The key? Leveraging the web for faster product creation in easy-to-use, stunning 3D. Collaborating and communicating online means stakeholders anywhere get to 'yes' much sooner."
How are designs created? Working with existing 3D models and standards, Orchids users apply materials and different colors from digital libraries with only a few mouse clicks. Uploaded prints and graphics are easily positioned and scaled. Variants take shape in seconds. Consensus builds as colleagues' comments influence the process without the usual long back-and-forth. With so many digital design elements available, creating 3D product variants becomes easy, fast, and efficient.
Interactive product renderings play a vital role. High-fidelity virtual garments star in merchandising reviews and sales pitches to buyers. They take center stage on e-commerce sites, in virtual showrooms, and in the Metaverse. Or they're sent to manufacturers with instructions for making physical versions.
Other Orchids platform features and benefits:

Displaying product lines on virtual assortment boards with 3D images that update in real-time as changes are saved. Adding notes and backgrounds to the boards is a snap.
Digital Asset Management (DAM+): Store and archive all visual and other digital assets, no matter the file type, in one place for easy access.
Spaces: Think of this feature of DAM+ as virtual whiteboards or tabletops, where teams view and brainstorm swatches, inspirations, or draft concepts for a new season.
The beta program involved more than 20 brands, design companies, service providers, and export houses. Key findings include:
The platform reduces the workload of 3D experts, enabling anyone to apply different colors, graphics, and prints to 3D models. This case study has more details.
Small brands lacking technology resources can quickly transition to 3D and accelerate their product development cycles. The platform gives them a single, affordable place where all their key creation data and communication threads come together.
Virtual creation and presentation of 3D samples replace costly manufacturing of physical prototypes and travel for in-person merchandising. Buyers can now easily engage in the creation process online and make product suggestions on the fly.
To learn more about the Orchids platform and to request a demo, visit Embodee.
About Embodee
Founded in 2008, the company helps the fashion industry develop 3D virtual products more efficiently and collaboratively to reduce costs and increase sales for both online and physical stores. Its on-demand renderings of 3D products are unsurpassed in visual quality and interactivity. Headquartered in San Juan, Puerto Rico, the company has employees across the United States and Europe.