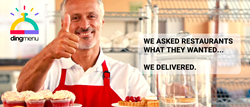 The time has come to disrupt the status quo in online ordering. Dingmenu is that disruption.
CORAL SPRINGS, Fla. (PRWEB) October 28, 2020
Dingmenu, a fast-growing software company dedicated to helping restaurants grow their revenues by increasing sales volume, has released a new model for online ordering that puts power and money back in the hands of owners. Unlike platforms such as GrubHub and Seamless, whose fees can exceed 30% per order, Dingmenu takes neither sales commission nor ongoing subscription fees from its customers.
Instead, restaurant owners pay a one-time $99 setup fee to create their branded online menu. Restaurant customers who place a takeout or curbside pickup order through Dingmenu pay a small $0.99 fee. The app also supports online ordering for restaurants offering in-house delivery to patrons. Leading payment processor Stripe handles the transaction and assesses restaurants its standard credit card processing fees of 2.9% plus $0.30 per order. That's it—there's no term contracts, hidden fees or cancellation penalties. And since Dingmenu is a web-based platform, businesses don't need any special devices or even POS systems.
Aimed at small food businesses struggling to stay afloat during COVID, Dingmenu makes it easy and cheap to start taking online orders. Customers can place their order through a link on the restaurant's existing website or in a text message sent by the restaurant, or through a printed QR code scanned with the patron's smartphone. Clicking the link opens the interactive ordering system and posts a bookmark to the restaurant's menu on the customer's home screen. This keeps the restaurant top of mind with a persistent reminder for customers thinking about ordering food while cutting out the competition restaurants face on the big platforms.
"Restaurants today face unprecedented challenges to survive through the COVID crisis, and the big-name platforms are taking advantage of that by gouging owners with crazy fees," says Dingmenu founder Debbie Popkin, a veteran software entrepreneur. "The time has come to disrupt the status quo in online ordering. Dingmenu is that disruption."