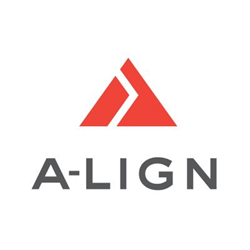 "Our expanding global presence will allow us to better serve our clients, commit to an around-the-clock response time and continue the firm's momentum and recognition as a global, industry-leading security and compliance partner," said Scott Price, Chief Executive Officer
TAMPA, Fla. (PRWEB) April 13, 2021
A-LIGN, a high-growth security and compliance solutions provider helping 2,500 global clients achieve their compliance goals to build trust and win more business, announced today its plans to expand its global footprint to Ireland and Panama following record first-quarter growth this year.
"This is an exciting time for A-LIGN. Market trends indicate that the demand for cybersecurity, compliance services and technology solutions is here to stay, and we are scaling the business quickly to meet those growing needs," said Scott Price, Chief Executive Officer at A-LIGN. "Our expanding global presence will allow us to better serve our clients, commit to an around-the-clock response time and continue the firm's momentum and recognition as a global, industry-leading security and compliance partner."
The firm's market leadership and increased demand for cybersecurity audits over the last year are propelling its momentum and rapid growth.
Record-Breaking First Quarter: Accelerating this momentum is a record-breaking first quarter for A-LIGN with a 52% growth in year-over-year first quarter performance from 2020 to 2021. As many companies transitioned to a remote work structure due to the COVID-19 pandemic in 2020, the number of cybersecurity risks and threats grew and drove the rapid adoption of cybersecurity and compliance best practices. The remote work model has been highly successful for A-LIGN as it has also broadened its access to global talent to serve more clients and their increasing number of compliance needs.
Global Expansion: Panama and Ireland will mark the second and third international locations for A-LIGN after the successful opening of its Sofia, Bulgaria office in 2019, which has since doubled in employee count. The firm has experienced 129% year-over-year business growth in the EMEA region in the first quarter of 2021. Growth in excess of 100% is expected to continue throughout the year as the Ireland location becomes firmly established. Panama, dubbed as the "Hub of the Americas" and already headquarters for many multinational companies, was chosen for its ideal location for technological and logistical connection to the LAC region. The office will allow A-LIGN to offer around-the-clock service and cater to clients and their growing markets in North and South America.
Increased Breadth of Services: A-LIGN announced earlier this year that it was among the first designated CMMC C3PAO firms and it now has six employees that have completed the CMMC Provisional Assessor training as A-LIGN prepares to guide companies through the evolving CMMC audit and certification process. The firm will also be working with HITRUST as an approved assessor firm for their upcoming CSF v10 launch, a framework update intended to simplify the HITRUST CSF by using a HITRUST approach 2.0 which will include an upgraded MyCSF assessment tool, more efficient and clarified assurance methodologies and extended support resources.
The strong revenue performance, global growth and expanding service offerings validate the commitment from A-LIGN's team of dedicated staff and the trust that clients continue to put in them to secure and grow their business.
###
About A-LIGN
A-LIGN uniquely delivers a single-provider approach as a HITRUST CSF Assessor firm, Qualified Security Assessor Company, accredited ISO 27001, ISO 27701 and ISO 22301 Certification Body, accredited FedRAMP 3PAO, designated CMMC C3PAO and licensed CPA firm. Working with small businesses to global enterprises, A-LIGN experts and its proprietary compliance management platform, A-SCEND, are transforming the compliance experience. For more information, visit http://www.A-LIGN.com.
Media Contact
Allie Spurrier
Corporate Communications
(888) 702-5446
allison.spurrier@a-lign.com